Brown lemonade is made with freshly squeezed lemon juice and light muscovado sugar. Apart from giving your lemonade this lovely brown colour, the muscovado sugar also lends it a lovely hint of molasses. Enjoy it with lots of ice as it is, or spike it with a shot of your favourite spirit to make it a refreshing lemonade cocktail.

"Lemonade can't be brown!" was the comment I got the first time I lay on the table a jug full of brown lemonade. That, and a puzzled look directed at me. "But it features muscovado sugar…", was my reply. Indeed, the beverage looked more like a fancy attempt to revive old coca cola gone flat, rather than regular lemonade. But why does lemonade have to be yellow? I mean, it can be pink, too, right? So why not brown? So brown lemonade it is!
Why make brown sugar lemonade
Regular lemonade is made by combining freshly squeezed lemon juice with water and sugar. Using common white granulated sugar the colour is very similar to that of lemon juice: a pale greenish yellow. But swap regular sugar with brown sugar and the end product will take a much more interesting colour. And flavour.
We're not just adding brown sugar for the colour, but for the flavour, too. In this specific recipe my sugar of choice is light muscovado. I love the flavour of muscovado sugar, in particular the light one. Its warm molasses tone does  really elevate even a simple drink like lemonade.
Another thing I love about muscovado sugar is its texture that resembles kinetic sand. Every time I am using it to bake, I just waste so much time poking it and staring at its slow moves mesmerized. On the less awesome hand, though, muscovado is difficult to store. Let some air into the packet and the cool sandy sugar will turn into a stone. Muscovado needs to keep accurately airtight to preserve its wetness.
Well, the good thing about this recipe is that the sugar gets melted into a simple syrup before being added to the lemon juice. So brown lemonade is a perfect recipe to make in order to use up your muscovado turned stone. Just break a bit that weighs enough as per recipe instructions and melt it. We couldn't care less about its wrong texture once it goes into lemonade!
How to make brown lemonade
Combine 100 g of light muscovado sugar and 200 ml of water in a small saucepan and set it on medium heat. Stir from time to time until the sugar has dissolved, then remove from the heat. Place the saucepan in a cold bath to speed up the cooling time.
Fruity stuff? Try these mango cider bellinis!
Squeeze the lemons to extract their juice. We will need 300 ml of lemon juice in this recipe, which corresponds to 4-6 lemons, depending on their size and juiciness. Add 800 ml of cold water to a jug and pour in lemon juice making sure to strain it to retain the pulp and seeds. I like my brown lemonade smooth and free of any pulp.
When the brown sugar syrup has cooled down, add it to the lemon and water mixture. Give it a good stir and your brown lemonade is ready! This brown lemonade tastes more tart than sweet, so feel free to add more sugar if you want a sweeter drink. We could as well add some more water to make it less concentrated, but I like to serve my brown lemonade with lots of ice and that will ultimately dilute the drink.
Looking for more non-alcoholic summer drinks? Here's my cardamom cold brew!
Lemonade with brown sugar
If you don't have light muscovado, granulated cane sugar will work great in this lemonade recipe. If you have the possibility to buy muscovado, I would recommend getting the light one. Muscovado sugar also comes in a dark variety. Dark muscovado sugar has a stronger flavour that in my opinion pairs less well with lemon. What it pairs great with is liquorice, and that is why dark muscovado is my sugar of choice for liquorice panna cotta!
If you only have dark muscovado at hand, I would recommend using part dark muscovado and part white sugar. Another interesting sweetener option would be coconut sugar. It very much resembles brown sugar and might work very well in this recipe, while also keeping the carb tally a bit lower. I am not familiar with sugar-free alternatives to brown sugar so if you have any suggestions to make brown lemonade sugar free please let me know in the comments!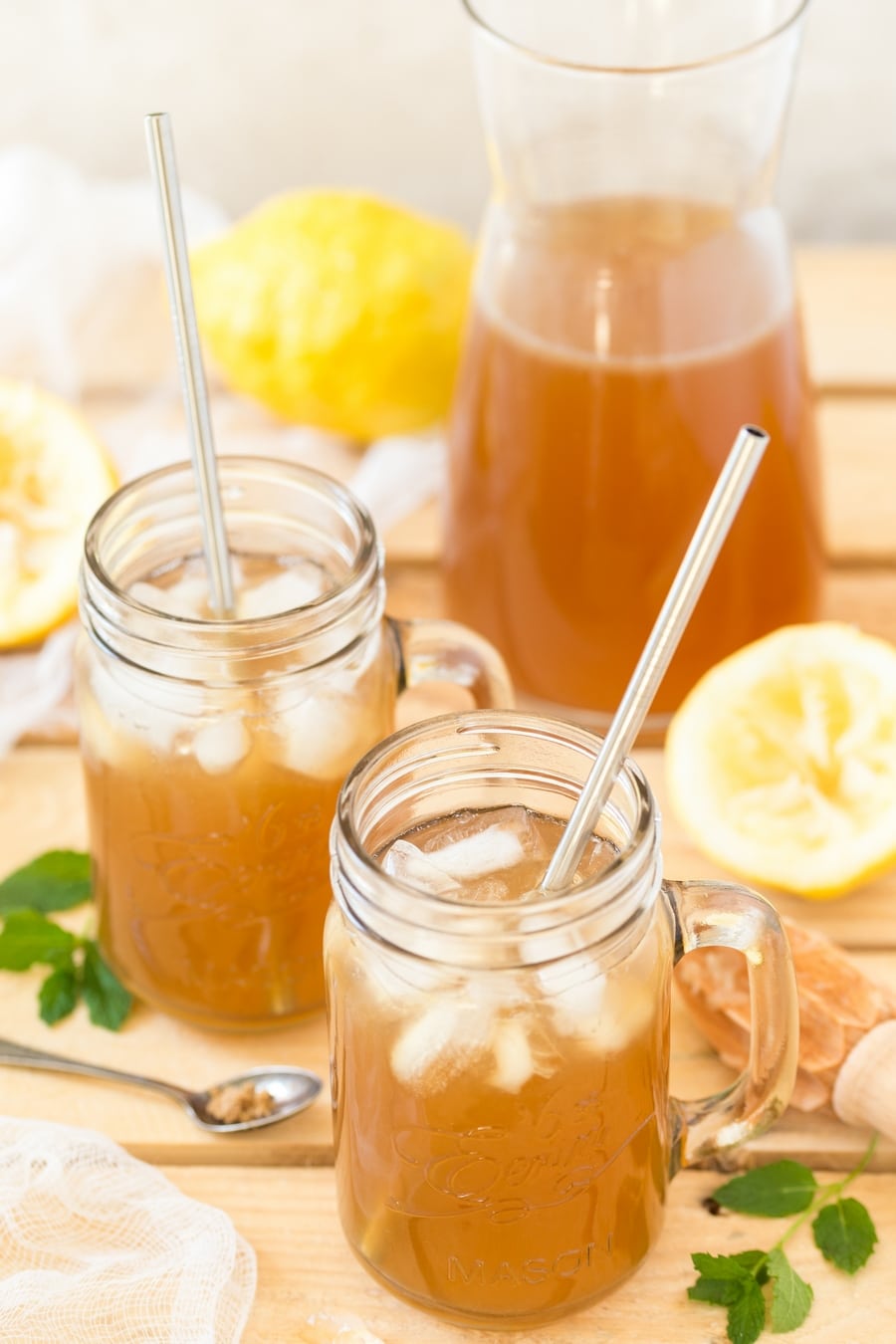 Make it a cocktail!
This lemonade is a fantastic base to develop into a simple cocktail. Spike it with a shot of your favourite spirit and you get a delicious adult lemonade to enjoy as aperitivo. To tone down the alcohol you may as well add more ice and extra mint sprigs. I personally think that vodka works great. In this brown lemonade I would go with smooth unflavoured vodka. In regular lemonade I like raspberry flavoured vodka, which could also be an option here if we turn a blind eye to the colour combination that may result.
You don't need to add alcohol to turn it into a cocktail, anyway. Just add ice, mint sprigs and lime slices and enjoy this lemonade as a mocktail. After all, this brown lemonade is already pretty awesome and flavourful as it is!
This recipe was originally published in April 2017 and has been updated in May 2020 with new pictures and a recipe card.
Brown sugar lemonade
Brown lemonade made with light muscovado sugar instead of regular white sugar. Brown lemonade tastes great with a hint of molasses that comes from the muscovado.
Ingredients
1

L

cold water

300

ml

freshly squeezed lemon juice

100

g

light muscovado sugar

ice cubes and mint sprigs for decoration
Instructions
Combine the sugar and 200 ml of water in a small saucepan and set on medium heat. Heat the mixture stirring from time to time until the sugar has dissolved. Remove the pan from the heat and place it in a cold water bath to speed up the cooling time.

Squeeze the lemons until you have 300 ml of juice. This may mean using 4-6 lemons depending on size and type. Add 800 ml of cold water to a jug and pour in lemon juice making sure to strain it to retain lemon seeds and pulp.

When the muscovado simple syrup has cooled down, add that to lemon mixture. Stir well and serve over ice. Decorate with fresh mint sprigs or other herbs of choice (optional).
Nutrition Facts
Brown sugar lemonade
Amount Per Serving
Calories 112
Calories from Fat 9
% Daily Value*
Fat 1g2%
Sodium 20mg1%
Potassium 111mg3%
Carbohydrates 30g10%
Protein 1g2%
Vitamin C 29mg35%
Calcium 33mg3%
Iron 1mg6%
* Percent Daily Values are based on a 2000 calorie diet.
(Visited 3,953 times, 5 visits today)