Liquorice panna cotta: an intriguing flavour twist to a classic dessert recipe. Let the earthy nutty flavour of the liquorice root surprise you at every spoonful of this delicious panna cotta variation. Made with pure liquorice extract in liquid form, this liquorice panna cotta recipe will sure make lovers of the fragrant root very happy.
What is liquorice panna cotta
Panna cotta is a traditional dessert recipe that originates from Northern Italy. Heavy cream gets sweetened and warmed to dissolve the sugar and gelatin added to it. Chilled in the fridge for a couple of hours the gelatin will set, giving the final product its signature wiggly texture. Simple panna cotta usually has a hint of vanilla and may be served with a topping like caramel or a fruit sauce.
Many variations of the recipe exist and liquorice panna cotta is one of them. Instead of flavouring panna cotta with a hint of vanilla, in this recipe we are using pure liquorice extract. In order to give our liquorice panna cotta this light beige tone as well as the perfect flavour depth we are using a secret ingredient… read on to discover what it is. Ingredient quantities and recipe procedures are described in the recipe card below.
Liquorice extract
Sweden is a country heavily obsessed with liquorice, so finding liquorice extract for my panna cotta was easy peasy. Not only was it effortless to find liquorice extract at the supermarket, but I even had the possibility to be choosy when I found out they carry two types: liquid or powder. Since I was adding my liquorice extract to a liquid food, I opted for the liquid extract. The powder one is actually made of finely grated liquorice root. While this would certainly work great in delivering the delicious liquorice flavour, the debris would not dissolve in the hot cream. If you have the possibility to choose, a liquid extract would be perfect for panna cotta. If you only find powdered liquorice root, either filter the panna cotta through a fine sieve, or be aware that liquorice root debris will deposit on the bottom of your glass.
This does not apply only to liquorice. I usually work with real vanilla and if you are not careful to remove every bit, you will find them in your foods. When this is not desired, the best solution is to opt for a liquid extract. Or to embrace the presence of the natural flavouring added to your food, because in the end seeing some vanilla bean bits actually makes you appreciate the fact that real vanilla has been used. Or real powdered saffron, like in the case of my saffron panna cotta, which displayed some red saffron dots. Not a flaw if you ask me!
How much liquorice extract should I use?
Liquorice is quite a strong flavouring. It is mostly associated with candies and chewing gum, where it is deliberately strong as it is supposed to cleanse the palate and freshen the breath. That is not the purpose with this panna cotta. Here we want just a hint of the liquorice, as heavy cream is still the main flavour profile of panna cotta. The first thing you should taste when eating this dessert is sweet cream, and liquorice should hit you as an aftertaste. Just like when using peppermint extract, it is important to go easy when adding liquorice extract to your desserts. The last thing you want is for them to taste dental hygiene products.
The liquorice extract I have used is quite a strong one as it is made from 400 g of liquorice per litre. It has an alcoholic content of 35%. Through trial and error I settled at 2 tsp in the recipe I'm sharing here. It is the perfect amount to give a great liquorice tone without it being too overpowering. Liquorice should come as an aftertaste, if you want to avoid the impression of eating candy. Unless using the same liquorice extract I have used (purchased in Sweden), keep in mind that you may need to adjust the quantities. Add little by little keeping in mind that less is more in this case.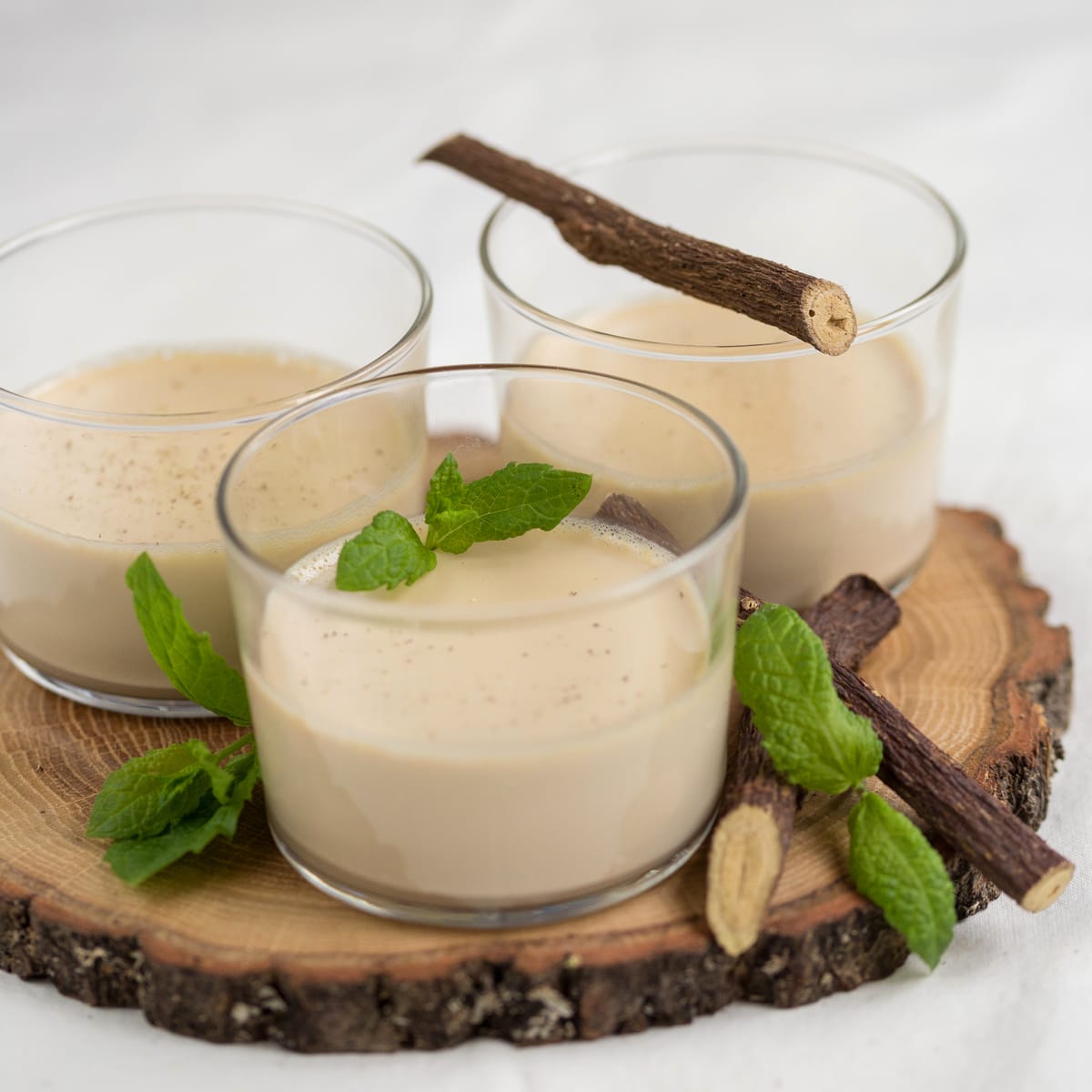 The secret ingredient: dark muscovado sugar
If you check the list of ingredients for this recipe, you'll see we are using a teeny-tiny amount of dark muscovado sugar together with white sugar. If you don't have any at home and are not planning on buying a package for only using 10 g, just go with 40 g of regular white sugar. Liquorice is quite a strong flavouring and alone will do a great job. Yet, adding that small amount of dark muscovado will take your liquorice panna cotta to the next level.
Muscovado sugar does have a liquorice tone of its own – it will not only provide sweetness but some deeper tones to your panna cotta. Furthermore it will give the panna cotta this light beige tint. The colour is the first thing that catches the eye and hints at the fact that we're being served a flavoured panna cotta here, not just a regular white one. I do not recommend only using muscovado sugar in this recipe. The flavours that come with it, combined with the liquorice extract, would make the overall flavour of the panna cotta too strong, going for that "chewing gum / candy" taste.
After your panna cotta has rested and set in the fridge, garnish it with fresh mint leaves. I also added freshly-grated liquorice root on top. Since we are using gelatin, as per the original recipe, this panna cotta is not suitable for vegetarians and Muslims. Swap the gelatin for a substitute that suits your diet if gelatin is not an ingredient you can use.
More panna cotta inspiration?
Panna cotta is one of my favourite desserts, one I truly grew up with, coming from Piemonte. Here are some of my panna cotta recipes:
Pin this liquorice panna cotta recipe for further reference:
Liquorice panna cotta
An unusual flavour to a classic recipe: liquorice panna cotta is the twist to the creamy dessert that you need to try next. Made with natural liquorice extract, let the flavour of this panna cotta variation surprise you.
Ingredients
250

ml

heavy cream

50

ml

full fat milk

5

g

gelatin

2 sheets

30

g

white sugar

10

g

dark muscovado sugar

2

tsp

liquid liquorice extract
Instructions
Soak the gelatin sheets in cold water and let bloom for 5 minutes. Separate 100 ml of heavy cream. In a small saucepan combine the remaining cream, milk, white sugar, muscovado sugar and liquorice extract and set on low heat. Stir to dissolve the sugar and remove from the heat just before it reaches boiling temperature.

Warm the separated 100 ml of cream. Drain the gelatin and squeeze out any excess water. Add the gelatin tot he warm cream and stir to dissolve. Pour cream and gelatin mix into the saucepan with the other ingredients and stir well.

Divide mixture into three serving glasses or moulds. Chill in the fridge for 2 hours or until the gelatin is set and the panna cotta has a firm texture. Decorate with fresh mint leaves or grated liquorice root (optional).
Notes
I have used pure liquid liquorice extract in this recipe, which was purchased in Sweden. Various brands and types may result in stronger or weaker extracts. Unless using the same extract I used (pictured in the post), please adjust quantities to taste. As a general rule, aim for less. While great as aftertaste, too strong a liquorice flavour may make the final product less palatable.
Nutrition Facts
Liquorice panna cotta
Amount Per Serving
Calories 355
Calories from Fat 279
% Daily Value*
Fat 31g48%
Cholesterol 116mg39%
Sodium 43mg2%
Potassium 85mg2%
Carbohydrates 16g5%
Protein 4g8%
Vitamin A 1252IU25%
Vitamin C 1mg1%
Calcium 73mg7%
* Percent Daily Values are based on a 2000 calorie diet.
(Visited 3,905 times, 1 visits today)