Oh, roasted cherry tomato, you are such a delight. Those juicy pearls that cherry tomatoes are when raw, really get to the next level when roasted in the oven. They become soft, their flavour concentrated. Sure you may lose on the crunch and pop, but you gain in flavour depth. And they're so easy to make. Toss them with some basic condiment and chuck them in the oven, that's it. What to use them for? Anything! But my favourite way is on pasta. A simple creamy pasta topped with roasted cherry tomatoes and a generous sprinkle of pecorino.
Roasted cherry tomatoes basics
Making roasted cherry tomato is really simple. You basically need to bake your tomatoes in the oven, this will wrinkle and evaporate them, concentrating their flavour. According to your oven settings, you may as well broil them for a few minutes, or just bake them directly in the top section of the oven, to get some nice browning. So first of all, get your tomatoes, clean them and cut them in half. If they're really big you may as well quarter them,there's no golden rule. I went for halves as I wanted larger bits. Some recipes call for whole cherry tomatoes, but halved they best suit this creamy pasta recipe.
Transfer your halved tomatoes into a bowl and season with olive oil, salt, freshly cracked black pepper and oregano. Toss to properly coat each and every piece of tomato in the condiment.
Place your seasoned cherry tomatoes onto an oven tray lined with baking paper, making sure to space them out evenly. Bake in the preheated oven at 200°C for 20-25 minutes.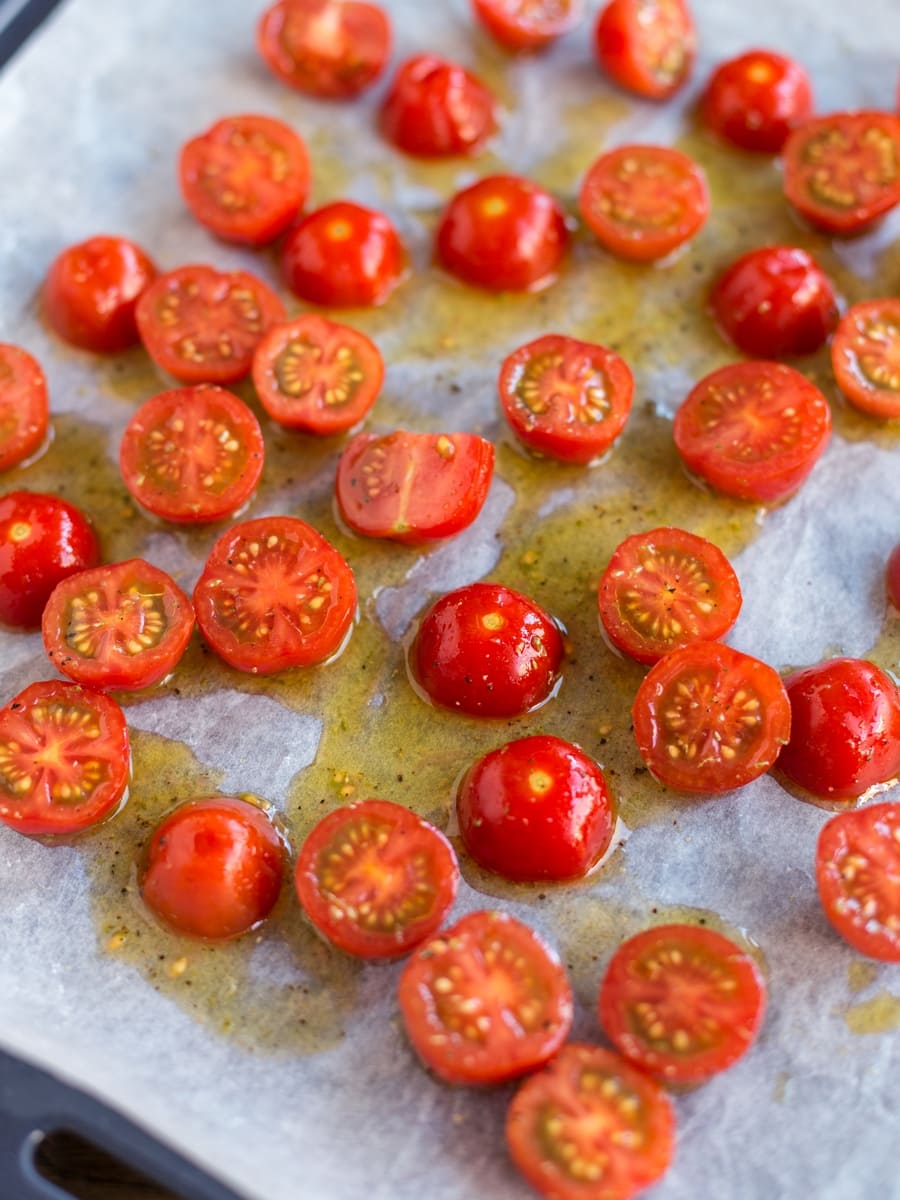 The goal is to get some of their juices to evaporate, as well as some browning. I baked my tomatoes in the top part of the oven and switched to broil for the last 5 minutes. Keep an eye on them and adjust the settings according to your oven type. Some cherry tomato halves may pull out from the skin, some skins may brown too much. Just discard those skins when the tomatoes have cooled enough to be easy to handle.
Creamy pasta wheels
While the cherry tomatoes are in the oven, you can proceed preparing your pasta. For this recipe I would recommend short pasta like penne or fusilli. I went for wheels, ruote. They are quite an uncommon pasta type, not so easy to come by, but I really like them. While I was never used to eating them back home, they had become my favourite pasta type when I was studying in Norway. Whenever I find them now, they always remind me of my pasta meals in Oslo.
Cook your pasta in boiling salted water according to package instructions. When done, drain and return to the pot. Add the creme fraiche and stir to distribute evenly. You could be using heavy cream here, but what I like about creme fraiche is its thicker texture. And the slightly acidic flavour it gives, of course.
In the bowl where you had seasoned the cherry tomatoes you should have some condiment leftovers. Add that oil and salt mixture to the pasta, too.
Roasted cherry tomato pasta
If you still have some minutes to spare before your cherry tomatoes are ready, grate the pecorino. As soon as the oven-roasted tomatoes are done, take them out of the oven and carefully inspect if there are some burnt skins that need to be discarded.
Plate the creamy pasta and top with roasted cherry tomatoes and a generous sprinkle of pecorino. I also like to add one final dash of freshly cracked black pepper for even more flavour.
For another creamy pasta dish try this walnut sauce pasta.
More pasta inspo: fresh tomato and balsamico onion pasta!
This recipe yields 2 large portions. Re-heating is not recommended. While this dish will not lose in terms of flavour, the cream will dissolve in the microwave. So I would not recommend making a larger batch in order to intentionally save some leftovers for your lunch box the next day. This creamy roasted tomato pasta is meant to be enjoyed the very moment you prepare it. Ideally, with a nice glass of white wine.
More pasta dishes?
Feeling in the mood for some nice pasta dishes? Here are some other recipes you may want to give a try:
Was it the roasted cherry tomatoes that really caught your attention, here? Then you definitely have to try these mini-tarts with mustard and cherry tomatoes.
Roasted cherry tomato pasta
A creamy pasta with oven-roasted cherry tomatoes. A creme fraiche base meets the tang of perfectly roasted cherry tomatoes and the spiciness of grated pecorino and freshly cracked black pepper. Welcome the warm season with this delicious pasta dish.
Ingredients
Roasted cherry tomatoes
300

g

cherry tomatoes

4

tbsp

olive oil

1/3

tsp

salt

dried oregano and black pepper
For the pasta dish
250

g

pasta

100

g

creme fraiche

50

g

grated pecorino

salt and black pepper to taste
Instructions
Oven-roasted cherry tomatoes instructions
Clean and halve the cherry tomatoes. Add olive oil, oregano and black pepper and toss. Place seasoned cherry tomato halves on an oven tray lined with parchment paper; do not discard condiment leftovers.

Roast in the top part of the oven for 20-25 min at 200°C (392°F). Switch the oven settings to broil for the final minutes if the tomatoes are not browned after 15 minutes.
Pasta recipe instructions
Set a pot of water on the stove. When the water boils, add salt and pasta. Cook according to package instructions. Do not overcook.

When the pasta is ready, drain the water and place pasta back in the pot. Stir in the creme fraiche and the leftover oli mixture from the cherry tomatoes.

At this point the roasted cherry tomatoes should be ready. Plate the pasta and top with roasted cherry tomatoes, grated pecorino and freshly cracked black pepper.
This recipe appeared long long ago on this blog and has now been completely rewritten. If you are such an oldie in here that you remember the old one, thank you for sticking around!
(Visited 1,046 times, 1 visits today)