A soup with a lot of character, roasted bell pepper and goat cheese soup is a recipe that features two quite dominant flavours together. Yet the overall flavour of the soup is unexpectedly mild and well balanced. This is thanks to another key ingredient: heavy cream. Cream in soup tones down the overall flavour, while also giving it a texture that will make you love this roasted bell pepper soup.
Some say that soups are a winter thing because they are so warm and comforting. Others worship soup as a meal year round. If you ask me, I'll have a hard time deciding what side I'm on. I will down a soup I love any time of the year. But some soups are a big no during the warmer season.
Yet, the warmer season is the one that yields all sorts of fantastic produce. And soup made of freshly harvested vegetables is nothing short of amazing. If you were in Italy in the summer, would you say no to a plate of minestrone made with any sort of green goodness from the vegetable garden? I'm not a summer soup person, but I would definitely never say no to that!
In this post I am bringing you a wintertime favourite of mine. A soup that is packed with flavour. Rightfully so, as it features two pretty distinct ingredients: roasted peppers and goat cheese. Together, they create something unique. My goat cheese of choice is fresh, unripened. Perfect for crumbling over the soup, is has the added bonus of being a fine decoration on top of providing flavour.
Soup lover? Try this Polish tomato soup!
Bell peppers are another big love of mine. Roasted, that is. I can eat raw peppers. But when roasted, I adore peppers. When you don't have a grill, you can very easily oven-roast your bell peppers. It takes about an hour in the oven, plus some cooling time and you will have peppers in their more exquisite form. In my opinion.
How to make roasted bell pepper soup
First of all, you need to have roasted/grilled bell peppers. Red ones are my peppers of choice, they have a sweetness that the yellow and green one don't quite deliver. And sweetness is something you want, as this soup also features apple cider vinegar and goat cheese, so we can't only let the cream balance out all that flavour. Plus check out that colour!!
If you have ready to use roasted peppers, you're gonna need about 430 g in this red bell pepper soup. If you don't have those, you need to oven-roast your peppers yourself. Please allow a couple of hours more to take care of this step. If roasting your own bell peppers, you need to use 3 medium ones. Once roasted, peeled and seeded you will have the amount this soup recipe calls for. Pleas refer to the recipe card below for instructions on how to make your own homemade oven-roasted peppers.
This roasted bell pepper soup recipe is very simple, really. Combine the roasted peppers and stock and blend until smooth. Add to this mixture the salt, dried thyme, apple cider vinegar and heavy cream and bring it all to a boil. Voilà. Seriously.
Related: Polish tomato soup pomidorowa.
Serve the soup with crumbled goat cheese on top. I prefer not to blend the cheese together with the rest of the ingredients because I like the way it looks, and I don't mind a stronger goat cheese hint here and there. Bleding it all in would make the final flavour more homogeneous. As an extra touch you can serve this soup with fresh thyme sprigs on top as decoration, since we're also using dried thyme in there.
Make it a meal!
Planning to have this soup as main course for your next gathering with friends? Here are some pairing suggestions to make it a meal.
Start your dinner with these fabulous goat cheese and mushroom crostini. If you fancy some shellfish, how about starting your dinner with shrimps with nordic pesto? If you're looking for more texture, nothng beats the crunch of a raw salad, like this Asian coleslaw with red cabbage and sriracha mayo.
Having this soup as a starter? Then you need to follow up with something that has equal character. How about these chicken livers with onion? Or this fantastic pork loin roast in hazelnut sauce. A vegetarian alternative could be a pasta bake, like this eggplant pasta casserole.
End it with something sweet, then I'd definitely recommend cheesecake kladdkaka, a Swedish chocolate cake swirled with cream cheese. Brown sugar panna cotta in small individual jars is a lovely single-serve option. Fancy some ice cream? Make your own no-churn London Fog ice cream!
Love roasted peppers? Try these roasted pepper flans with pecorino bechamel.
Don't forget to pin this soup recipe for later!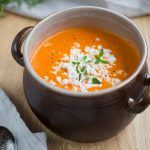 Roasted bell pepper soup with goat cheese
A brightly coloured soup with an unforgettable flavour. Creamy and smooth, home-roasted bell peppers together with fresh goat cheese will be a flavour combination your guests will love.
Homemade roasted peppers
2
hours
Ingredients
3

bell peppers

(430 g cooked)

250

ml

vegetable stock

200

ml

heavy cream

1

tbsp

apple cider vinegar

1

tsp

salt

1/3

tsp

dried thyme

100

g

unripened goat cheese
Instructions
If not using ready to use roasted bell peppers, please refer to instructions below. You will need either 3 fresh bell peppers, or 430 g roasted bell peppers for this recipe. Clean the bell peppers from the seeds and skin and add them to the vegetable stock. Blend until smooth.

Stir in the salt, dried thyme, apple cider vinegar and cream, then bring to a boil. Top with crumbled goat cheese. Optionally you can also add a sprig of fresh thyme as decoration.
Homemade oven-roasted bell peppers
Line an oven tray with three sheets of aluminium slightly overlapping. Place the bell peppers on top of the aluminium foil. Bake in the preheated oven at 200°C for 1 hour, rotating the bell peppers every 15 minutes. When the time is up, take the oven tray out and wrap each bell pepper individually in aluminium foil. Let cool wrapped until cold enough to handle.
Nutrition Facts
Roasted bell pepper soup with goat cheese
Amount Per Serving
Calories 541
Calories from Fat 432
% Daily Value*
Fat 48g74%
Cholesterol 160mg53%
Sodium 1892mg82%
Potassium 452mg13%
Carbohydrates 15g5%
Protein 13g26%
Vitamin A 7842IU157%
Vitamin C 229mg278%
Calcium 147mg15%
Iron 2mg11%
* Percent Daily Values are based on a 2000 calorie diet.
(Visited 389 times, 4 visits today)