Vegan panna cotta with coconut milk and agar agar. Sweet and flavoured with cardamom, this is the plant-based panna cotta you need in your life. If you're looking for a light and fresh vegan no-bake dessert and you've always excluded panna cotta because gelatin, here's the alternative you needed.

I am obsessed with panna cotta, I think it's such a wonderful dessert to perfectly end a glorious meal. Panna cotta is very easy to make, requires only a bunch of ingredients and a rather low level of expertise. The only real issue is time, as panna cotta requires a couple of hours to set. But if you've got the time, there is no excuse not to be making a batch of panna cotta. In fact, one of the reasons why I often choose panna cotta when I'm entertaining is because it's a great make-ahead dessert. But what if you need to make it vegan?
Being a dairy cream based dessert that features gelatin, panna cotta is far from being suitable to vegans in its original form. But I love panna cotta so much that even when I'm catering to vegans I have a trusted vegan panna cotta recipe I turn to. You just need a couple of small substitutions to make the classic Italian dessert fully vegan.
How to make panna cotta with agar-agar
In this plant-based panna cotta recipe we are making 2 key substitutions that make our panna cotta vegan:
Coconut milk instead of dairy milk;
Agar-agar instead of gelatin.
Agar-agar is a gelling agent largely used in vegan/vegetarian cuisine in place of gelatin. It is popular in Asian cuisine, and also chosen as pork gelatin substitute in Muslim countries if beef gelatin is not available. Agar-agar is plant-based and is derived from an algae.
Panna cotta with agar-agar has a slightly firmer texture than regular panna cotta. Traditional panna cotta has a slightly bouncy feature, due to the use of gelatin. Agar-agar has a slightly harder feel and foods jellyfied with it will lack this bouncy quality. That is the only notable difference, otherwise panna cotta with agar-agar resembles traditional panna cotta very much. I have made my vegan panna cotta in moulds and have then proceeded to flip them out of the moulds onto serving plates. Panna cotta with agar-agar was easy to flip back and did not lose its shape.
What kind of coconut milk should I use?
The other notable substitution in this recipe is the cream. Coconut milk comes in various fat percentages, either canned or in tetrapak boxes. To make panna cotta I recommend using coconut milk at 13% fat. I use the one sold in tetrapak boxes. As opposed to the canned one, coconut milk in boxes has a more uniform texture. Canned coconut milk often separates, with the fat part usually collecting and solidifying at the top, and the liquid part remaining on the bottom of the can. Coconut milk in tetrapak boxes has the texture of a homogeneous thick liquid, similar to heavy cream.
Liquid coconut milk sold as a dairy milk substitute has too low fat percent to work well in panna cotta. Sure the addition of agar-agar will jellify all kinds of coconut milk, but panna cotta should be creamier. Using a main ingredient with a higher fat content helps to achieve that creaminess. This is the same principle behind using actual cream and not just whole milk in regular panna cotta.
More of the delicious no-bake dessert!
One more reason why I love panna cotta so much is because it's very versatile. You can play around quite a bit and flavour your dessert whatever you please. Whether you have a theme flavour throughout your dinner, or you just really have an ingredient in mind that would pair so well with the dessert wine you've chosen, you can make panna cotta with that flavour. My favourite panna cottas include nutella panna cotta, saffron panna cotta and even liquorice panna cotta!
This vegan panna cotta has a lovely flavour combination of cardamom and coconut. It makes it the perfect end to an Indian meal. It was, in fact, inspired by an Indian dessert I was once offered, that was made with coconut milk and cardamom! But you don't need to have a strictly Indian or vegan dinner to enjoy this coconut panna cotta in the end. The fresh flavour of this dessert makes it perfect after any meal. Any season.
Vegan panna cotta with coconut milk and cardamom
A plant-based panna cotta recipe made using coconut milk and agar agar. Serve this vegan panna cotta as a fantastic end to a dinner, its cardamom and coconut flavour will make even non-vegans fall in love!
Equipment
Saucepan

Spoon

Mesh sieve

Serving cups
Ingredients
250

ml

coconut milk

13% fat

40

g

sugar

10

cardamom pods

1

tsp

vanilla extract

1

tbsp

agar-agar flakes

2

tsp

ground pistachios

optional, for decoration
Instructions
Seed the cardamom pods and discard the shells.

In a small saucepan combine the coconut milk, cardamom seeds, sugar and vanilla extract and set on medium heat, stirring to dissolve the sugar.

When the sugar has dissolved, sprinkle the agar-agar flakes all over the surface of the coconut milk mixture. Set the heat on medium-high and let cook without stirring until it starts boiling. The agar-agar flakes will stay on the surface and not sink.

When the milk starts boiling lower the heat to medium and stir. Simmer for about 10-15 minutes, until the agar-agar flakes dissolve and the mixture slightly thickens, stirring from time to time.

Remove from the heat and divide mixture between 2 serving moulds. Pour the mixture through a mesh sieve in order to retain cardamom seeds and agar-agar leftovers.

Let slightly cool, then transfer to the fridge to set. This panna cotta requires about 2 hours of cooling time to harden.

As a serving suggestion, flip panna cotta out of moulds and onto serving plates and decorate with ground pistachios.
Notes
If using ground cardamom, sub the 10 pods for 1/3 tsp of the ground version of the spice.
Nutrition Facts
Vegan panna cotta with coconut milk and cardamom
Amount Per Serving
Calories 380
Calories from Fat 252
% Daily Value*
Fat 28g43%
Sodium 21mg1%
Potassium 436mg12%
Carbohydrates 33g11%
Protein 4g8%
Vitamin C 3mg4%
Calcium 76mg8%
Iron 6mg33%
* Percent Daily Values are based on a 2000 calorie diet.
Last updated October 2020.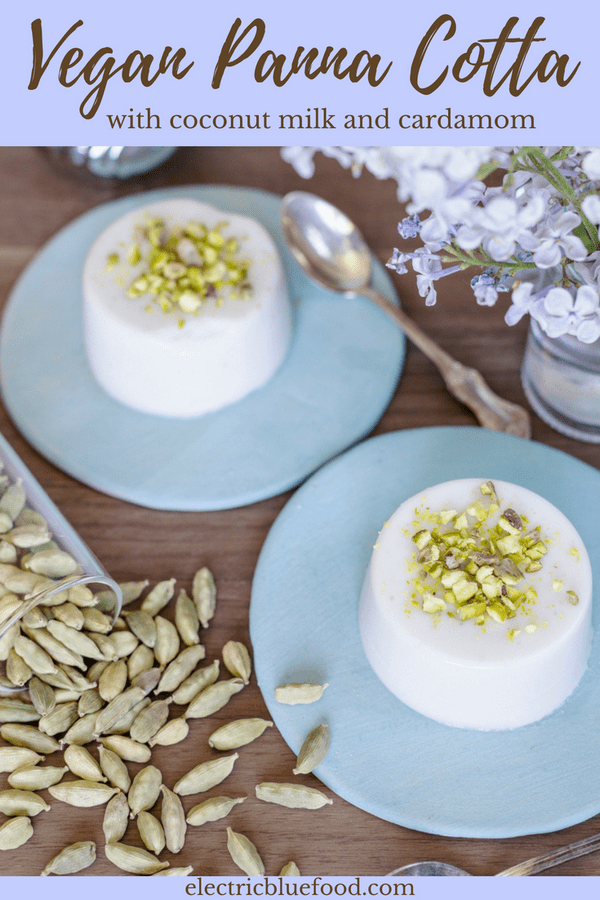 (Visited 3,432 times, 2 visits today)