Chicken pineapple salad with curry mayo brings the intense flavours of curry and pineapple together with the soft textures of lettuce and baked chicken, as well as the delicious crunch of roasted shaved almonds. The almonds in this salad are much more than just decoration, trust me. Dressed with homemade curry mayonnaise, this recipe is inspired by a salad I used to have at a restaurant some time ago.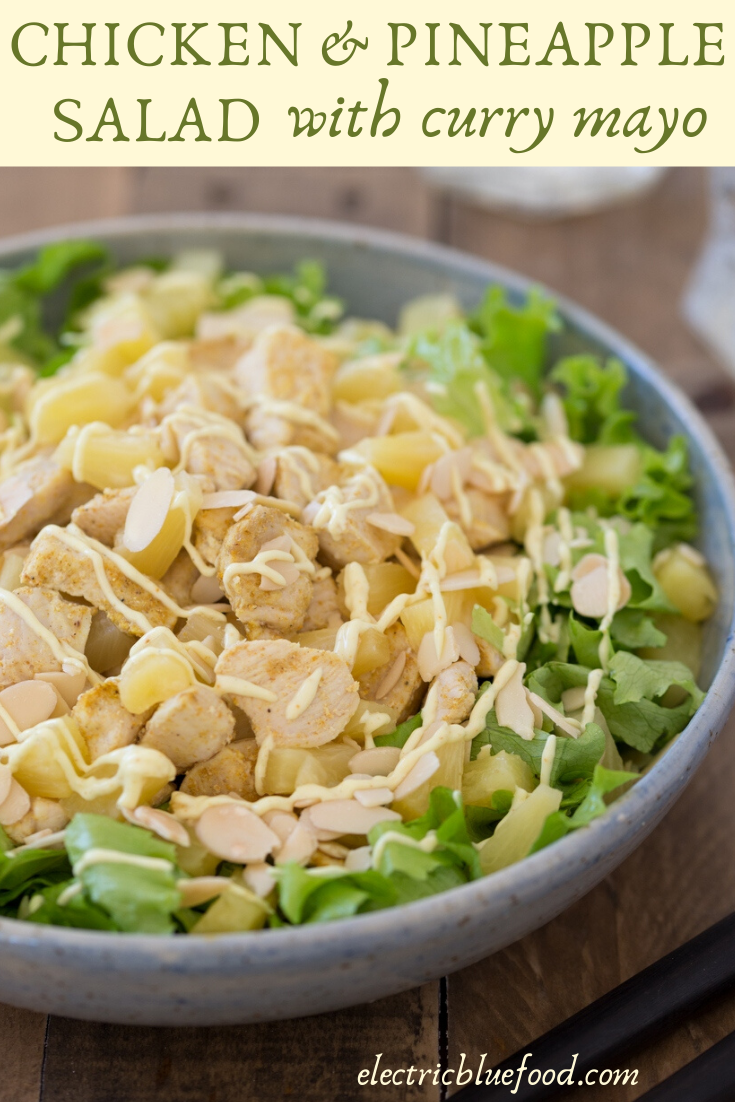 I don't eat pineapple often. Especially not on savoury food (and never on pizza!). But there's one exception. One salad I first had in Krakow that introduced me to the wonderful combination of curry chicken and pineapple. I would love to be sitting at an outdoor table at that restaurant right now, but I can't. Just because we can't travel to Poland at the moment doesn't mean we can't have the food that reminds us of a place. So I made myself that lovely curry chicken salad and ate it on my patio.
Chicken pineapple salad might not strike as a Polish dish. It clearly isn't. But it was the one dish I'd always order whenever I visited the restaurant Warsztat in Krakow. The original salad came with corn, an ingredient I decided to skip as I find the pineapple sweet enough. As dressing, they usually bring you mayonnaise – I decided to go with curry mayo to get even more of the curry flavour.
Chicken pineapple salad ingredients
These are the ingredients you will need to make a chicken pineapple salad for two:
400 g chicken breast
120 g canned pineapple + juice
1 lettuce head
3 tbsp roasted shaved almonds
200 ml vegetable oil (I use rapeseed)
1 egg
curry powder
lemon juice
salt
How to make chicken pineapple salad
In this recipe I will guide you through making your own homemade curry mayo. If you prefer to use ready to eat mayo, just skip the vegetable oil, egg and lemon juice.
Prepare the curry chicken
The first thing you want to take care of is the chicken. I decided to bake mine in the oven, but you can as well cook it in a skillet. Dice the chicken breast and place the bits in a plastic bag. Add 1 tsp curry powder and a sprinkle of salt and massage the meat to spread the seasoning all over. Drain the canned pineapple saving the pineapple juice. Add 5 tbsp of pineapple juice to the chicken. Squeeze out any air, close the bag and let the chicken marinate for 20 minutes. In the meantime, preheat the oven to 200°C and take care of the homemade mayo.
Homemade curry mayo
Crack the egg in a tall container and start mixing the egg alone with a hand blender making up and down movements for a couple of minutes, until the egg gets frothy and increases in volume. Tall containers tend to work best with a hand blender, so I'd recommend finding one that like that. In the past, cooking at a friend's place, I have made mayo in a large beer glass as that was the container with the best shape I could find.
Always blending, start adding the oil in a small continuous stream. Keep with the up and down movements as you blend. The mixture should thicken before you are done adding all the oil, but add all of it nonetheless. When the mixture has emulsified, it's time to add some flavouring. Put aside the blender and add 2 tsp lemon juice, 1 tsp curry powder and 1/4 tsp salt. Either give it a final mix with the blender or just fold in the condiments with a rubber spatula. Feel free to add more salt or lemon juice to taste, if needed.
Pair this salad with a mango cider bellini!
Prepare the other ingredients
When the oven has reached the desired temperature, place chicken bits on an oven tray and bake for 10 minutes, or until done. If you make larger bits than mine, you may need some more time. To check, take out the largest bit from the pan, cut it in half and see if it has cooked through. Once cooked, remove chicken bits from the pan (it may have released some liquid while cooking) and let cool. You don't want to add it to the salad while oven-hot or it may wilt the salad leaves, so a couple of minutes in the freezer may help cooling it down faster.
Cut the pineapple into smaller bits. Cut up the lettuce and lay it on the bottom of a serving bowl. Add chicken and pineapple bits. Top with roasted shaved almonds.
The restaurant in Krakow serves the mayonnaise in a small bowl on the side, so you can choose to mix it into the salad as a dressing, or dip the chicken in it. I decided to pour some dressing on top of the salad, and serve the leftover curry mayo on the side. I ended up mixing in some more mayo when I ate mine, but I think that a drizzle of dressing on top looks really cute.
If you happen to be in Krakow, I can totally recommend to pay Warsztat a visit. It has three locations in the city centre, of which one specializes in Polish cuisine (and is called Warsztat po polsku). The salad that inspired this recipe is called aksamitna, which means velvety. One thing I used to appreciate was the freshly baked bread that came with it, and that I hope they are still serving.
You may also take a look at some of my recommendations on places to sample Polish cuisine in Krakow, if you're planning to visit. Let me know what your favourite was!
You may have recognised this serving bowl from another recipe, my fig and goat cheese salad. It is hands-down my favourite salad bowl I own. It is handmade by ceramic artist from Sweden Pernilla from Studio Kurbits. While I own several of her beautiful creations, this one is my absolute favourite. I think it's perfect to make salad for two. Make sure to pay her a visit and don't forget to check out her Etsy shop!
Chicken pineapple salad with curry mayo
A lovely chicken salad with the flavours of pineapple and curry and the crunch of roasted shaved almonds.
Ingredients
400

g

chicken breast

120

g

canned pineapple + juice

1

lettuce head

3

tbsp

roasted shaved almonds

200

ml

vegetable oil

1

egg

2

tsp

lemon juice

curry powder

salt
Instructions
Drain the pineapple and save the juice. Cube the chicken breast and add the bits to a plastic bag. Add salt and 1 tsp curry powder and massage to distribute. Add 5 tbsp pineapple juice. Push out all the air from the bag and close airtight. Leave chicken to marinate for 20 minutes, and set oven to preheat to 200°C (392°F).

Crack the egg in a tall container. Mix with a hand blender making up and down movements until the egg has doubled in size and is frothy. Gently add the oil in a slow continuous stream while keeping the up and down mixing. The mixture should emulsify before all of the oil has been added. When done, add 2 tsp lemon juice, 1 tsp curry powder and 1/4 tsp salt. Stir in condiments and set aside.

Place chicken bits on an oven tray and bake at 200° for about 10 minutes or until done (check largest bit for doneness by cutting it in half and checking if cooked through). Let cool before adding to the salad to avoid wilting salad leaves.

Chop the lettuce and place on the bottom of a serving bowl. Cut the pineapple to small pieces. Add the chicken and pineapple bits over the salad, in the centre of the bowl. Top with roasted shaved almonds. Drizzle curry mayo dressing over the salad, or serve on the side.
Notes
If mayonnaise doesn't emulsify before all of the oil has been added, add a little more oil making sure it goes in in a very slow stream. For best results, have all the ingredients at room temperature.
Nutrition Facts
Chicken pineapple salad with curry mayo
Amount Per Serving
Calories 1255
Calories from Fat 1035
% Daily Value*
Fat 115g177%
Cholesterol 210mg70%
Sodium 268mg12%
Potassium 1144mg33%
Carbohydrates 15g5%
Protein 50g100%
Vitamin A 2908IU58%
Vitamin C 13mg16%
Calcium 100mg10%
Iron 3mg17%
* Percent Daily Values are based on a 2000 calorie diet.
(Visited 627 times, 3 visits today)