Oh, summer approaching! If there's one food I always strictly link to summer it's bruschetta. Proper bruschetta is made by roasting bread on the grill and that obviously happens mostly in the summer. Which is also when tomatoes are in season. Bruschetta truly is the perfect starter for grill night. Here's an alternative to classic tomato bruschetta. It's eggplants and fresh mint that top this grilled eggplant bruschetta. A delightful bruschetta flavour alternative.
And even if you don't have the proper equipment to throw a BBQ party, you can always make bruschetta in the kitchen. That's how I make it often, since I live in a country that is often too cold to enjoy dining al fresco. Your indoor-bruschetta may lack the smoky flavour of bread roasted on the grill, but once you add a few quality ingredients it'll make up for that!
That is the secret behind so many fantastic Italian recipes. Few ingredients, but bomb. Because once you're dealing with good flavours, you don't need to have too many. Keeping it simple will go a long way. And that's exactly the way it is for this wonderful grilled eggplant bruschetta.
Grilled eggplant bruschetta ingredients
good quality bread
1 eggplant
garlic
fresh mint
olive oil
salt
Optionally, you can also add some cherry tomatoes. I like to add one more veggie to my grilled eggplant bruschetta. It really doesn't take more time and the final result is so colourful.
The addition of cherry tomatoes is totally optional, but I'm in a roasted-cherry-tomato-phase of my life and I could literally add them to any dish. Seen this roasted cherry tomato pasta recipe?
How to make grilled eggplant bruschetta
The first thing you wanna do is to prepare the grilled eggplant. I used a grill pan on the stovetop, and kept it a medium-high heat. First, slice the eggplant. You want to have slices that are about 2 mm thick. I generally do not salt and sweat the eggplants, as they will get nicely seasoned later anyway. Grill them in the grill pan, when the skillet is properly hot, it should take about 3 minutes per side to get the eggplants nicely done.
Then it's time to toast the bread, and we will do that in the oven. Place bread slices on an oven tray and drizzle some olive oil over them. Place in the oven at 200°C and let toast for 6-8 minutes – this will depend on the thickness of your slices. You don't want to leave them too long or they'll get pretty hard.
Another great topping for your bread: spicy eggplant ricotta dip.
As soon as the bread comes out of the oven, rub a garlic clove onto one side of the bread – the top side where the bruschetta filling will go. This procedure is best done after grilling the bread, as a thin layer of garlic will remain while rubbing it against a crispy toasted bread slice, as opposed to rubbing it on the soft bread before toasting.
Mint eggplant bruschetta topping
While the bread is toasting, cut up the grilled eggplant slices into thin ribbon-like bits. My eggplant was quite large so I made 4-5 pieces out of every slice.
Clean and mince the fresh mint leaves. I have used 8 spearmint leaves. Spearmint is milder in flavour than peppermint, so if using a different type of mint, please consider reducing the amount. Mint eggplant is a lovely combination, but mint can be very overwhelming and we don't want to overshadow the eggplant taste. Furthermore, we are going to use some fresh mint leaves as decoration, and that will provide extra mint flavour to the eggplant bruschetta.
Add the minced mint to the eggplants. Season with olive oil and salt and toss. Adding raw garlic just before serving, this mint eggplant would make for a delicious salad. We will get this combination of flavours since we've generously rubbed our toasted bread with garlic!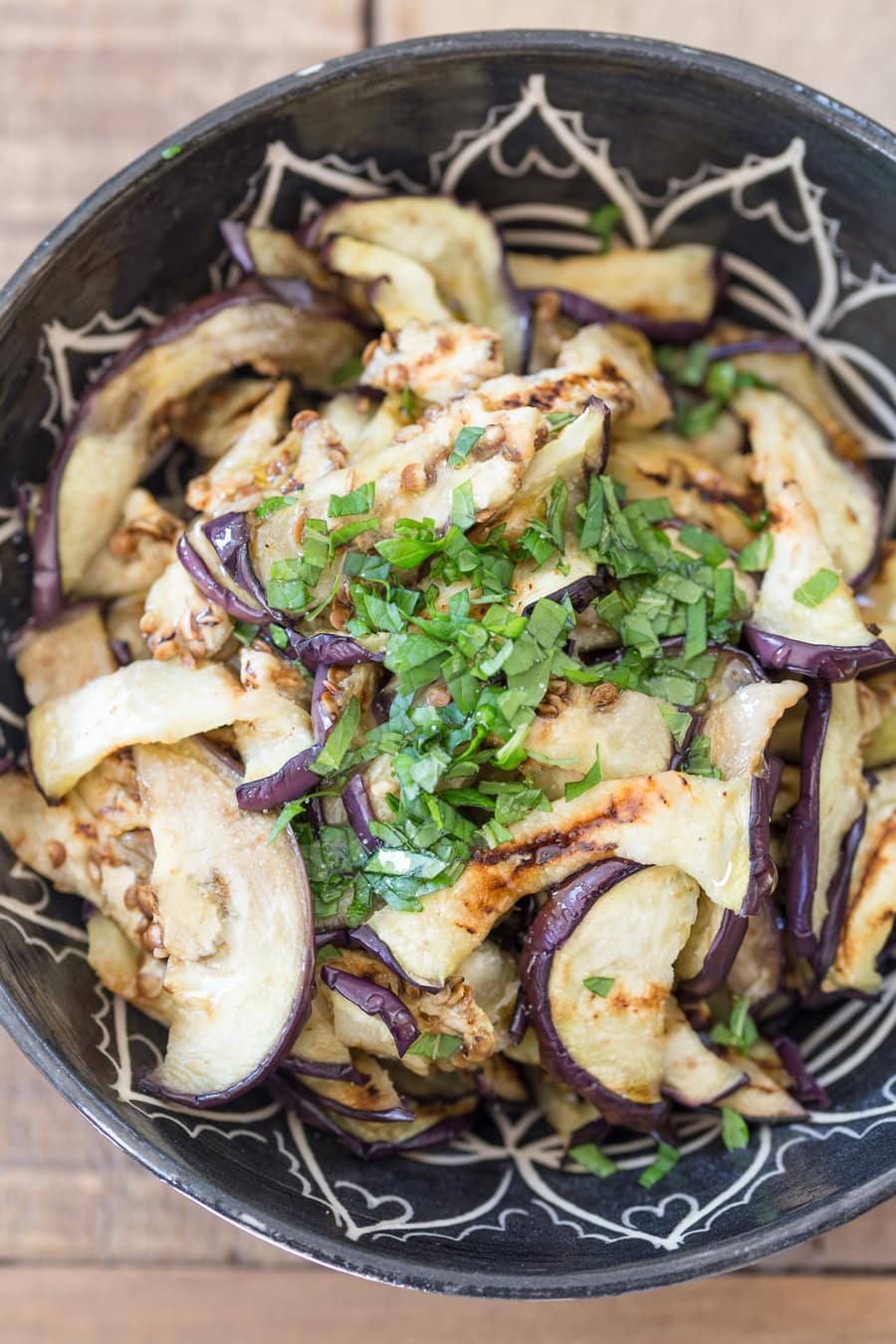 If you wish to add the extra ingredient, the cherry tomatoes, you can quickly prepare them now. Cut the cherry tomatoes in half (or quarters, if the're fairly large) and toss with some olive oil and a sprinkle of salt. When you take the bread out of the oven, line the same oven tray with baking paper, place seasoned cherry tomatoes, and return tray to the oven. Roast the cherry tomatoes for 20 minutes at 200°C. Prepping the tomatoes won't take more than 5 minutes; you already have both the salt and the olive oil at hand, and you don't need to get the oven on just for that. It's really a no-brainer and you get such a nice extra ingredient!
Now you are ready to assemble your grilled eggplant bruschetta! Divide the mint eggplant mixture over toasted garlic bread. Add a few smaller mint leaves here and there for decoration and extra flavour! Get your grilled eggplant bruschetta to the table immediately and enjoy it on warm bread, or save it for later and serve it cold. While you can make it in advance and eat cold, I wouldn't recommend making it earlier than 2 hours before serving time. The bread might get really hard on the edges, and soggy under the filling.
If you want to add the cherry tomatoes, jut place them on top of the eggplant as soon as they come out of the oven. If serving the mint eggplant bruschetta immediately, you will have this nice contrast between warm bread, cold eggplants and warm tomatoes. Actually, the tomatoes might be proper hot if serving them straight from the oven, so make sure to warn your guests about that!
A fantastic appetizer that delivers the flavours of the Mediterranean, this grilled eggplant bruschetta only requires a bunch of ingredients and is so easy to whip up. While being the perfect appetizer for BBQ night, I happily serve mint eggplant bruschetta with roasted cherry tomatoes as aperitivo regardless of what kind of food comes after. Actually, I even make these as main course when I want to eat something vegetarian, healthier but on the scrumptious side. It's the perfect light dinner to snack on while watching tv!
Loving eggplants? Try the Georgian eggplant rolls badrijani nigvzit.
Take your bruschetta game to the next level by making you own bread! Start with a sourdough starter. It's easier than you may think, I promise.
Grilled eggplant bruschetta
A flavourful appetizer ispired by the flavours of the Mediterranean. Enjoy this grilled eggplant bruschetta with fresh mint and, optionally, roasted cherry tomatoes!
Ingredients
4-6

slices

sourdough bread

(about 300 g)

1

large eggplant

(350 g)

4

tbsp

olive oil

1

garlic clove

8

fresh mint leaves

salt to taste

150

g

cherry tomatoes

(optional)
Instructions
Lay the bread slices on an oven tray. Sprinkle with olive oil and toast in the preheated oven at 200°C (392°F) for 6-8 minutes depending on bread thickness. When ready, rub a garlic clove onto the bread - this operation is easier when the bread has been toasted, as opposed to fresh and soft.

Cut up the eggplant into slices that are about 2 mm thick. While the bread is baking, grill the eggplant slices on a grilling pan on the stovetop. At high heat they should require about 3 minutes per side. When grilled, cut the eggplant slices into thin ribbons.

Add sliced grilled eggplants to a bowl and season with 2 tbsp olive oil and salt to taste. Mince the mint leaves and stir in. I have used spearmint for this recipe. If using peppermint, you may want to reduce the quantity.

Divide seasoned eggplants on bread slices. Eggplant bruschetta tastes fantastic when the bread is still warm from the oven, but can be served at a later time cold. Garnish with more mint leaves for extra flavour and decoration.

Optionally, you can also add oven-roasted cherry tomatoes to make your bruschetta richer in flavour and colour. Halve cherry tomatoes, add to a bowl and toss with 1 tbsp olive oil and a sprinkle of salt. When the bread is done toasting, place seasoned cherry tomatoes on an oven tray lined with baking paper and roast in the top part of the oven for 20 minutes still keeping the oven at 200°C.
Nutrition Facts
Grilled eggplant bruschetta
Amount Per Serving
Calories 347
Calories from Fat 135
% Daily Value*
Fat 15g23%
Sodium 336mg15%
Potassium 437mg12%
Carbohydrates 45g15%
Protein 9g18%
Vitamin A 295IU6%
Vitamin C 12mg15%
Calcium 47mg5%
Iron 3mg17%
* Percent Daily Values are based on a 2000 calorie diet.
(Visited 2,282 times, 1 visits today)