Fig and goat cheese salad on a mixed leaves base with a two-ingredient raspberry vinaigrette and colourful beetroot sprouts. The bright pink tones will sure make this goat cheese and fig salad a show stopper. The sweetness of the fresh figs and of the raspberry balsamico dressing are the perfect contrast to goat cheese. Beet sprouts and toasted pumpkin seeds add in some crunch as well as some extra health factor. This fig salad is amazing.
Come fall the diversity in produce availability in stores gets interesting. Waking up to cooler temperatures gets you an appetite for soups and I love to adapt my menu to seasonality as well as climate. I am blessed to live in a place with seasons and I appreciate the little differences that each of them bring. September is that interesting month when hot and cold coexist, at least where I live. Some days are sunny and in the 20's degrees Celsius, other days it's rainy and the thermometer shows single digits.
On those cooler days I could just live off soups, pasta bakes, risotto. Warm foods filled with various vegetables, possibly with cheese in them. Or some sorts of spices. Warm desserts and beverages, too. Hot apple crisps, almond puddings. Hot chocolate. Mulled cider. And then there are those days when summer seems to still be lingering on, and you feel like you could put those hot bowls of soup aside for one more day of late summer. Fill those bowls with salads, and add what's in season. This was the inspiration behind this fig salad with goat cheese.
Ripened chevre is great for these baked goat cheese bits with figs and walnuts.
Figs may not be something that grows in Sweden, but we do get them, from the warmer countries where they are in season. I loved eating ripe figs back in Italy, getting them in Sweden sure helps fight off homesickness when it strikes. Because it does strike, particularly in the fall. Late September and early October used to be my favourite part of the year back home in northern Italy. That time when the leaves turn all sorts of crazy colours, and the grape harvest approaches, and you get to roast chestnuts in pans with holes over the open fire. I only experience the leaves here in Sweden, and they last a far shorter time.
We do have other stuff up here that gets me excited every fall, one beig the abundant apple season. That is one thing that in this region is pretty big. Lots of people have apple trees in their gardens and making homemade pressed apple juice is a real tradition. This is something I got to learn on my first year here, when I started blogging for the university. I got my share of pure apple juice from a friend's apple harvest and I have been saving it in the freezer only for very special occasions. Good apple juice is the base for good szarlotka.
This is szarlotka: a Polish cocktail with apple juice and bisongrass vodka.
Figs are definitely one of those flavours most commonly associated with autumn. This fig salad with goat cheese and beet sprouts is a celebration of their sweetness and colour. A raspberry balsamico vinaigrette pairs with the sweetness of the fruits, while the beet sprouts join in for some more of the beautiful pinkish/purple tones.
Beetroot sprouts in salads
While figs are nothing new to me, beetroot sprouts are something I saw for the first time only last year. Microgreens and sprouts are gaining popularity in contemporary cooking for their aesthetic appeal as well as nutritional value. As a kid I remember growing watercress on a cotton ball; if I did not forget to keep it nicely hydrated, in a matter of days the tiny seeds would sprout and the cotton ball would be populated by fancy shoots.
I met sprouts again in Asian cuisine. A Vietnamese restaurant that called me a regular back in Krakow uses a lot of bean sprouts in their plates. Pad Thai has bean sprouts, too. Actually many veggies – in particular legumes – sprout; the most easy to find being probably bean or pea shoots. As my sprout exploration developed and I started paying more attention to the sprout selection at larger supermarkets (I'm not kidding you, we have such a thing here) I realized that there's more to sprouts than what I remembered from my childhood science projects.
So last year I came across beetroot sprouts and I was hooked. We had ran out of alfalfa sprouts which we use in sandwiches at my summer job, so one day I found this bright pink alternative in the kitchen. It was love at first sight. Beetroot sprouts are just so beautiful. I mean, look at the colour! I am a sucker for Barbie pink and this is exactly the right shade! What's more important? They taste so nice! It's like a hint of a beetroot flavour, in this lovely fluffy crunchy texture. It's packed full of vitamins and it looks gorgeous. My salads were screaming for beet sprouts.
Fig and goat cheese salad with beet sprouts
The core inspiration for this goat cheese salad with beet sprouts was a salad served at our wedding reception. It had a bed of mixed greens and those soft bits of goat cheese. No figs, that is something I added myself when the right season came. In line with the fig tones, I wanted some red/purple tones also in the leaves, so I chose a mix that featured red coral lettuce (lollo rosso) as well as frisée and mâche.
See all the food we had at our wedding reception.
I used a small goat cheese log, sliced it and quartered the slices in order to have small-sized cheese bits. Goat cheese pairs wonderfully with something sweet, this is why I thought that figs and a raspberry based dressing were the perfect counterparts. The raspberry balsamico dressing is incredibly simple and easy and it consists of only two ingredients: raspberry jam and aceto balsamico. You could choose to keep the raspberry seeds, but I prefer to sieve the jam and discard the seeds. Just combine jam and balsamico and drizzle over the salad.
Despite its name, the stars of this fig and goat cheese salad are neither the figs nor the goat cheese, but the beetroot sprouts. I guess I should have called this recipe beetroot sprout salad. Your eye is immediately drawn to the bright pink of the beet sprouts. Just add as many as you wish, I like to just place a bushy handful of those here and there for their visual impact. Toasted pumpkin seeds give this salad the final crunch. Just remember to let them cool to room temperature before adding them to the salad, as you want to avoid withering the salad leaves. Beautiful, easy and packed with flavour this salad will be more than just a side dish.
More goat cheese recipes? Try this sweet potato and goat cheese quiche!
All my fall appreciation talk might have left you hungry, so here is a suggestion for a lovely dinner on one of those cooler days. Starting off with a hot soup, then risotto and an apple cake.
This fig salad recipe was originally published in March 2019, and was edited in September 2019.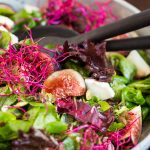 Fig and goat cheese salad with beet sprouts and raspberry vinaigrette
Ingredients
125

g

mixed leaf salad (red leaf lettuce, frisee, mâche)

100

g

goat cheese

3

figs

25

g

pumpkin seeds

60

g

raspberry jam

2

tbsp

balsamico

2

tbsp

olive oil

1/3

tsp

salt

beetroot sprouts
Instructions
Place the mixed leaves salad in a bowl, season with salt and olive oil and toss to evenly distribute.

Toast the pumpkin seeds in a pan over high heat for 2-3 minutes, then set aside until completely cooled.

Slice the figs. Slice the goat cheese, then quarter every slice to make small bits. Add both the ingredients to the salad leaves. When cooled to room temperature, add the toasted pumpkin seeds.

Sieve the raspberry jam and discard the seeds. Combine with balsamico and drizzle over the salad. Lastly, add the beetroot sprouts.
(Visited 728 times, 1 visits today)