Chocolate mascarpone tart is a deliciously sinful treat. What if we were to make individual servings, small shortcrust shells filled with delicious chocolate mascarpone cream? This recipe is very easy to put together and the effect is really beautiful. Both the shortcrust and the mascarpone chocolate cream take only a matter of seconds in a food processor. The result are 12 stunning mini chocolate shortcrust tarts.

This recipe is an adaptation of another chocolate recipe I have made before. In fact, this mascarpone chocolate cream happened one day when I wanted to make my raw fudge chocolate cake which has a pretty similar ingredients list except it features avocado instead of mascarpone because it's vegan. I was making that cake as an excuse because I had a very ripe avocado that felt like it really was just perfect to use. So I had all my ingredients ready, had even already made the almond base, when I opened the avocado and found it all brown and rotten.
Still determined to make my chocolate cake, I checked the fridge for a replacement. Exit avocado, enter mascarpone. With a slight tweak of the ingredients I produced a lovely chocolate cream. Made with coconut oil, cocoa powder and date syrup just like the original one. But with mascarpone instead of avocado. If you don't have date syrup you can sub it with any other syrup of choice, or honey. But I really love the way date syrup works with unsweetened cocoa powder and coconut oil. The result is basically chocolate.
Mascarpone chocolate cream tart ingredients
This recipe yields 12 small chocolate shortcrust tarts. To make the filling you will need:
250 g mascarpone cheese
200 g date syrup
80 g unsweetened cocoa powder
80 g coconut oil (melted and chilled)
As for the shortcrust, here's what you will need:
120 g butter (or margarine)
170 g flour
1 tbsp cocoa powder
1 tbsp granulated sugar
20 ml ice-cold water.
Both the shortcrust and the filling are made in the food processor. Does making everything in the food processor sound like cheating? The food processor is such a fantastic appliance. It makes life easier, but I only got myself one a year ago. If you don't have one, no worries. A hand-held mixer will deliver the same great results (read more below). In the end, once you present your guests with these beautiful little mascarpone chocolate cream tarts, nobody will know the difference.
I have decorated my small chocolate tarts with edible gold glitter and fresh flowers and leaves, but you can opt for any other decoration you fancy. Sprinkles, shredded coconut or chopped nuts will all do great. Or how about a cherry? Or nothing, just leave them simple. It is the taste that matters.
How to make the shortcrust shells
The first thing to do is preheat the oven to 180°C. So by the time the oven has reached the desired temperature, your small shortcrust shells will be ready to go in. Shortcrust is so easy to make, all you have to do is combine the ingredients in a food processor and blitz for a few seconds. For best results, remember to have the butter cold from the fridge.
Add the cubed butter, flour, cocoa powder and sugar and blitz until the mixture resembles coarse crumbs. Stop the blades and add a little cold water, about 20 ml. Blitz again until the dough gathers into a ball. If this does not happen, add another teaspoon water and continue until you get to the right consistency. Different types of flour and room humidity affect the outcome, so it's best to add the water little by little until the dough just comes together by itself.
Break the dough ball into bits and place them over a sheet of parchment paper, cover with another sheet and proceed to roll the dough out until it gets about 2 mm thin.
With the help of a pastry ring or cookie cutter, cut out circles that are slightly larger in diameter than the bottom of your muffin tin holes. Transfer dough circles over upside-down muffin tin. Gently press the dough down following the shape of the tin, this will create edges to your shortcrust shells.
Place the muffin tin in the freezer for 15 minutes to chill the dough before baking. When ready, bake at 180°C for 20 minutes. If the dough puffs up as it bakes, gently pat it down with any kitchen utensil. Pricking it with a  fork is a great way to release the air trapped between the pastry and the tin, that is causing the puffing. We're aiming for flat tops, as those will be the actual bottoms of our shells.
When the shortcrust shells are done, take the muffin tin out of the oven. Carefully lift the baked shells and place them on a wire rack to cool. They need to cool to room temperature before we can pipe the cream onto them. This shortcrust recipe is neutral in flavour. We are adding the sugar to offset the bitterness of the cocoa powder, but the final product is not sweet. The filling is quite rich and I prefer a neutral base, but feel free to adjust the amount of sugar to your liking if you're in for a sweeter treat.
Please keep in mind that depending on the size of your muffin tin you may have some dough leftovers.
How to make the mascarpone chocolate cream
Nobody loves cleanups, right? We are going to make our mascarpone chocolate cream in the food processor we just used to make the dough. Shortcrust pastry should leave almost no residue, so rather than proper washing and drying of our equipment we will just scrape away any dough leftovers with a rubber spatula, and dry any thin layers of flour from both the sides of the container and the blades. Small amounts of dough or flour won't hurt nobody.
Then it's once again just all about adding all the ingredients – mascarpone, date syrup, cocoa powder and chilled melted coconut oil – and blitzing them until smooth. Stop halfway through to give the sides of the food processor a good scrape with a rubber spatula, in order to evenly mix up any cocoa powder that may have flown all around.
In a matter of seconds you will have a wonderfully rich and smooth chocolate cream that is just begging you to eat it. Although difficult, resist the temptation and transfer the mascarpone chocolate cream to a pastry bag fitted with a star tip. Pipe the chocolate filling onto every shortcrust shell. Make sure the shells have cooled completely before you do so.
What if I don't have a food processor?
The use of a food processor makes this recipe a quick one to whip up, but you can also do all the work with a simple hand-held mixer. When using a hand mixer to make the shortcrust pastry you need to have the butter at room temperature, as it will be easier to work with the flour. Fit your mixer with the dough hook attachments for this part.
To make the mascarpone chocolate cream just swap the dough hook attachments for the regular whisks and whisk away the mascarpone, syrup, coconut oil and cocoa mixture. Using a hand mixer may require minutes instead of seconds, but will deliver the same fantastic result.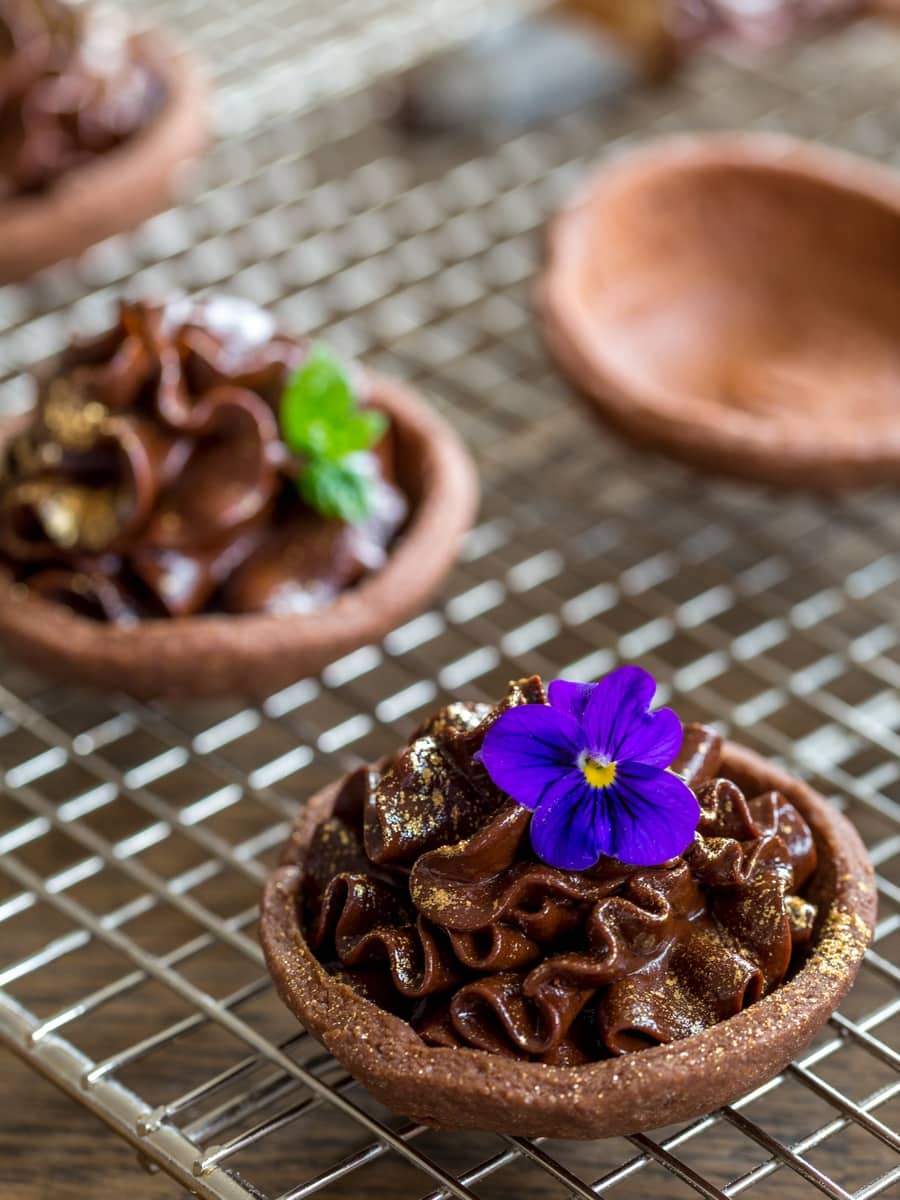 A sprinkle of edible gold glitter is a very elegant way to finish off your mascarpone chocolate tarts. If you have access to edible flowers, I couldn't recommend more having a few of those on as well. Pansies and mint leaves are what I have used on my tarts and they just make the whole thing even more interesting by adding some colour.
Decorating cakes with edible flowers and fruits gives such a precious and fresh touch. If you would like more inspiration you should definitely check out my pavlova with mango cream, which I have also topped with fresh fruits, pansies and mint leaves.
Mascarpone chocolate cream tarts
Mascarpone chocolate tart as individual portions. Small chocolate shortcrust shells filled with mascarpone chocolate cream. Decorated with edible glitter and flowers.
Ingredients
For the shortcrust shells
120

g

butter

170

g

flour

1

tbsp

cocoa powder

1

tbsp

granulated sugar

20

ml

cold water

(approx.)
For the mascarpone chocolate cream
250

g

mascarpone

200

g

date syrup (date molasses)

80

g

coconut oil

melted and chilled

80

g

unsweetened cocoa powder
Instructions
Shortcrust pastry shells
Preheat the oven to 180°C (360°F). Add butter, flour, cocoa powder and granulated sugar to a food processor and blitz until the mixture looks like coarse crumbs. Stop the blades and add a little water, then blitz again. If the mixture is still too dry, add a little more water and blitz again, until the dough gathers into a ball.

Place dough crumbs over a baking paper sheet. Cover with another paper and roll with a rolling pin until about 2 mm thick. Using a pastry ring, cut out dough circles and place them over an upside-down muffin tin. Lightly press the dough down following the shape of the tin. Transfer the tin to the freezer for 15 minutes before baking it.

Bake in the preheated oven for 20 minutes. When done, carefully remove the shortcrust shells and place them on a wire rack to cool.
Chocolate mascarpone cream filling
Wipe the food processor from any shortcrust crumbs - you don't need to thoroughly wash it. Add mascarpone, cocoa powder, date syrup and chilled melted coconut oil and blitz until smooth and homogeneous. You may need to wipe the sides of the container with a plastic spatula at some point, then blitz again to evenly distribute the cocoa podwer that might have flown aroud the sides.

Transfer the chocolate mascarpone cream to a pastry bag and pipe the cream onto chilled shortcrust shells. Decorate with a sprinkle of edible glitter or flowers (optional).
Notes
Store in the fridge in an airtight container for up to 4 days. Take the tarts out of the fridge at least an hour before serving to let the cream soften.
(Visited 1,039 times, 1 visits today)