Dreaming of taking in the summer warmth on an Italian holiday while indulging on delicious foods? Make the delicious foods part come true with this caprese focaccia sandwich! Caprese salad tomato and mozzarella becomes the filling to focaccia bread together with rocket leaves to create the most amazing vegetarian sandwich you've eaten in a while.
A summer sandwich inspired by Italy
If you love sandwiches and you're looking for a way to make your summer lunches more interesting, you have come to the right place. Nothing says summer like tomato and mozzarella! Alternating slices of tomato and mozzarella, just like caprese salad, are used to fill focaccia bread. Caprese salad has basil leaves that add the green to the red and white to recreate the Italian flag. In this sandwich we are using rocket leaves, instead.
Rich focaccia bread drenched in olive oil, flavourful ripe tomatoes, creamy mozzarella and the spicy bite of fresh rocket. This caprese sandwich is indeed a flavour trip to Italy. And that's how your next lunch break can taste.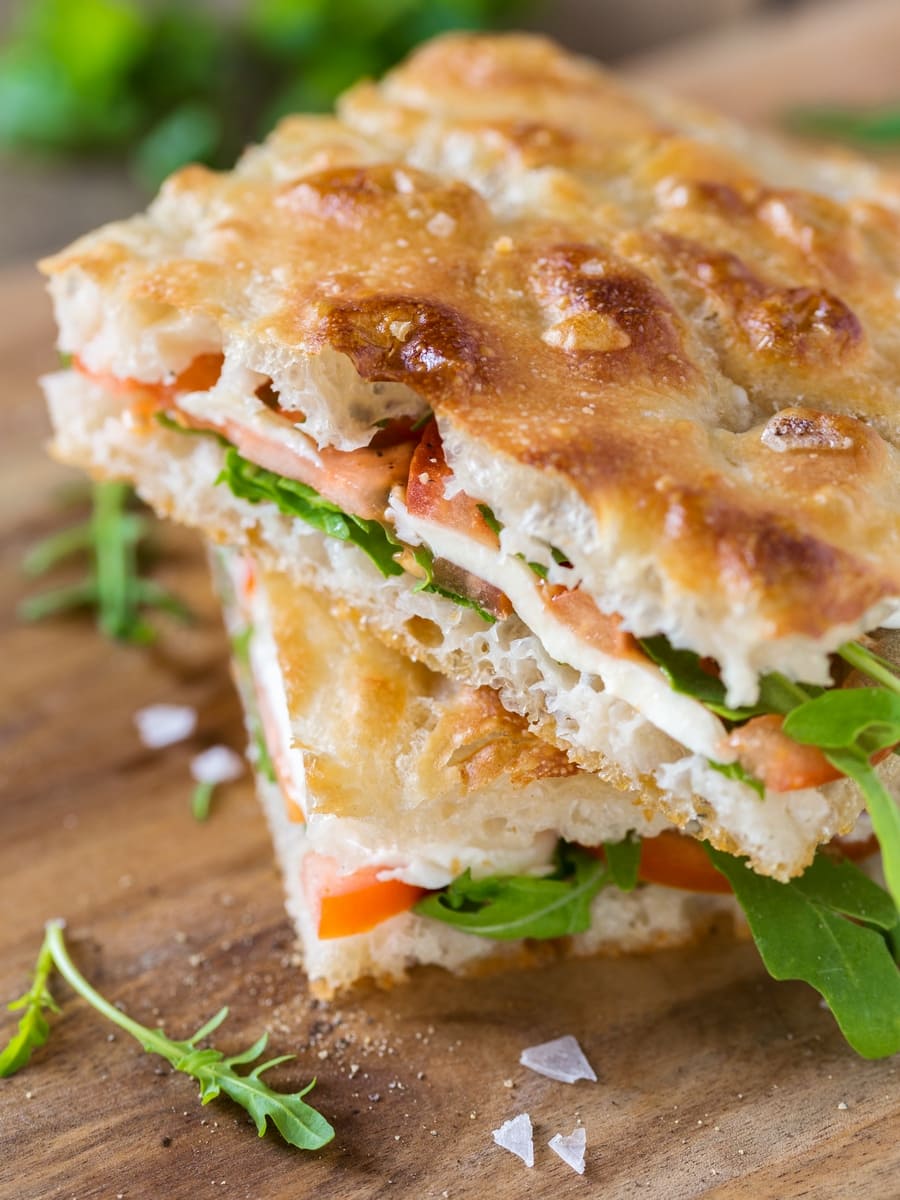 Caprese focaccia sandwich ingredients
This sandwich is pretty easy to make, and just like most Italian recipes only requires a handful of ingredients. Since we're keeping it simple, choose the best quality ingredients you can get. Good tomatoes and good focaccia can truly make a difference here.
Here's what you need to mak these caprese focaccia sandwiches:
Focaccia bread
Fresh tomatoes
Mozzarella
Rocket salad
Black pepper
Salt
How to make caprese focaccia sandwich
If you have a large piece of focaccia, first divide it into smaller squares/rectangles, as you wish the size of your sandwiches to be.
Then proceed to cut each focaccia slice in half lengthwise. You want to keep the bottom part with the cut facing up to be able to add the filling.
Add a handful of rocket to each slice. Make sure to divide it evenly between slices, and placing half of it on the bottom part of the focaccia.
On a cutting board, thinly slice the tomato and the mozzarella. Place them over the rocket, alternating the slices of tomato and mozzarella. Sprinkle some salt and freshly cracked black pepper.
Add another handful of rocket over the tomato and mozzarella slices, then close the focaccia lid.
How to serve caprese focaccia sandwich
Wrap your sandwich in paper and keep it refrigerated until your next lunch break. Your work colleagues will definitely be impressed by it! This sandwich tastes best within the first day, but it can be stored airtight in the fridge for up to 3 days. Please be aware that the tomato and mozzarella may soak the bread.
If you want to warm it up, this sandwich is excellent panini material. Pop it in a grill toaster/panini press, or cook it on the griddle for a few minutes. The focaccia will resume its crispiness and the mozzarella will just lightly melt… heaven!
You can also choose to fill the focaccia whole and portion it later, to make even smaller portions. Large, it is easier to fill. Gently press the bread top (the sandwich lid) and press it as you cut through the filling. You can even make these focaccia sandwiches very small and triangular in shape to use for afternoon tea! If they're too small and the lid won't stay in place, just pierce through them with a toothpick.
More fun appetizers!
I love serving smaller bits of caprese focaccia sandwich as starters! Here are some more ideas for fun appetizers that make for perfect tapas or finger food options:
What is your favourite finger food?
Caprese focaccia sandwich
Focaccia bread filled with tomato and mozzarella, the classic caprese combo. A delicious focaccia sandwich inspired by a classic Italian salad, on a classic Italian bread.
Ingredients
200

g

focaccia bread

1

tomato

125

g

mozzarella

40

g

rocket

black pepper

salt
Instructions
Slice the focaccia bread lengthwise and keep the bottom part with the cut facing up.

Add a handful of rocket on the open focaccia.

Slice the tomato and the mozzarella and place them alternating over the rocket.

Top the tomato and mozzarella slices with a sprinkle of salt and freshly cracked black pepper.

Add some more rocket leaves, then place back the top half of the focaccia bread as lid.
Nutrition Facts
Caprese focaccia sandwich
Amount Per Serving
Calories 485
Calories from Fat 171
% Daily Value*
Fat 19g29%
Cholesterol 49mg16%
Sodium 979mg43%
Potassium 267mg8%
Carbohydrates 55g18%
Protein 24g48%
Vitamin A 1409IU28%
Vitamin C 11mg13%
Calcium 354mg35%
Iron 1mg6%
* Percent Daily Values are based on a 2000 calorie diet.
(Visited 5,843 times, 7 visits today)