This raw chocolate cake with date syrup is a fudgy chocolate cake on an almond base, vegan and gluten free. The thick fudgy texture melts in your mouth, contrasting with the roasted coconut flakes on the top and the almond bottom. Easily made in a food processor and ready in less than 2 hours, this is the raw vegan chocolate cake you were missing out on.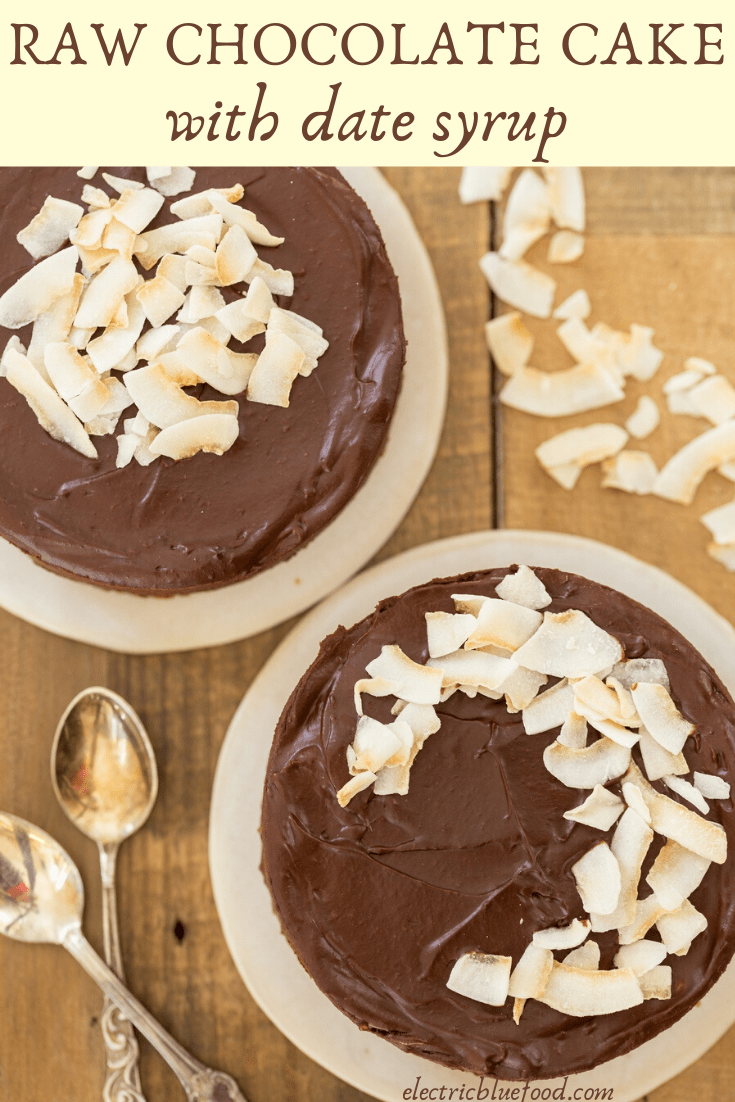 Raw vegan cake
Vegan baking is an art I find fascinating. I consider myself pretty old school when it comes to baking, so whenever I have a chance to bake a plant-based cake I always take it as a pleasant challenge. And I'm never short of amazed by how wonderful a cake with no eggs, butter or milk can turn out.
It wasn't until recently I have started exploring raw cakes. Not only plant-based, but raw. My first attempt were small chocolate squares I made at work last year with dates, coconut oil and cocoa powder. And then a couple of months ago I got to sample a delicious avocado-based raw chocolate cake with toasted coconut flakes on top at a friend's café. I was sold. I felt like I really needed to replicate that wonderful fudgy chocolate cake that was both vegan and raw. Challenge accepted.
Hear me out, raw food means no part of the process uses any cooking. So even my vegan coconut and cardamom panna cotta, despite being no-bake, does not qualify. I was in for something completely new, and I loved the idea.
Most of the date-based raw cake recipes I was finding, including the recipe I had been using at work, called for the use of actual dates. I had a jar of Basra date syrup at home that I wanted to use, instead, so I developed my recipe around that ingredient. Pure date syrup, also known as date molasses, is made from 100% date juice. 200 g of dates yield 100 g of date syrup, whose sugar content is 62%. I get mine at a Middle Eastern grocery store.
Raw chocolate cake ingredients
To make these small raw chocolate cakes you will need:
2 avocados (170 g peeled and pitted)
110 g date syrup
40 g unsweetened cocoa powder
80 g coconut oil, melted
1 tbsp vanilla extract
1 tsp whiskey (I used Jameson)
2 tbsp toasted coconut flakes
Those listed above are the ingredients for the cake filling. For the base you need:
60 g almonds
45 g date syrup
This cake is extremely easy to make. You just need to add all the ingredients to a food processor and blitz them until combined. I decided to make my raw chocolate cake as two small ones, so I divided base and filling into two small springform pans which measure each 10 cm in diameter. One such small cake yields 2 portions, so this recipe serves 4.
Make the almond base
Blitz your almonds in a food processor until ground and pour in the date syrup as the blades are rotating, so that it all gets nicely mixed.
Stop the food processor and divide the mixture between the two cake pans, evenly spreading it on the bottom. Since you want it to harden, place your cake pans in the freezer until you need them again.
Wipe the blades and the sides of the food processor bowl with a silicone spatula, no need to do any further cleaning. The next mixture will also be sticky and date syrup-based, so washing the whole equipment is just a waste of time. Just make sure to remove most of the ground almonds and you're good to go.
The fudgy filling
Melt your coconut oil and let it cool until it's lukewarm, as you don't want to be adding it hot.
Peel and pit the avocados and add them to the food processor. Sift the cocoa powder in –  sifting is not obligatory but warmly recommended, as cocoa powder tends to clump and it's quite difficult to dissolve cocoa lumps in a thick and cold paste. Next add the date syrup, the vanilla and the whiskey.
Start the food processor, and as it works, pour in the melted coconut oil. Stop the processor as soon as it's all combined, it should just take a bunch of seconds.
Don't need to keep it dairy-free? Try this fudgy mascarpone chocolate cream!
Take the prepared springform pans out of the freezer and divide the filling between the two – or just go ahead and add all of the filling over the base if making one cake and not 2 like I did. Top with coconut flakes.
Chill in the fridge for a minimum of one hour. The coconut oil will harden and the cakes will set while still keeping this lovelt fudgy texture.
Did we really say whiskey?
Now, the whiskey is an ingredient you can choose to skip. The reason why I like to add it is because I find that it really sharpens the flavour of the cocoa, delivering a rounder chocolate taste that offsets the flavour of the avocado.
Ideally, you shouldn't be tasting the avocado, as it's mostly added for texture. Often, though, its "green" quality still comes through. That small amount of whiskey helps to fix the focus on the chocolate, which is the main flavour you want to come to the front. I recommend using it, and if you do, definitely go for an all-round whiskey that could do well in Irish coffee, like Jameson.
Storage and serving
These raw cakes need to be kept chilled until serving time. Run a knife around the sides of the pan and remove the springform pan sides. Lift the cake from the bottom of the pan pulling it up by the parchment paper.
Using date syrup rather than dried dates delivers sticky cake bottoms. If you're finding it difficult to remove the parchment paper from the bottom, place the cake in the freezer for 15 minutes. This should help peel off the paper more easily.
Intensely chocolate-y, with a delightful fudgy texture and the natural sweetness of date syrup, this raw chocolate cake has quickly become a favourite of mine.
Every time I have too many avocados ripening at the same time I am no longer screaming "Guacamole!". Now I take out the food processor instead and aim for that date syrup jar in the pantry.
Raw chocolate cake with avocado and date syrup
A fudgy vegan raw chocolate cake made with avocado and date syrup on an almond base. Vegan, gluten free and refined sugar free.
Ingredients
For the cake base
60

g

almonds

45

g

date syrup
For the cake filling
2

avocados

110

g

date syrup

40

g

unsweetened cocoa powder

80

g

coconut oil

1

tbsp

vanilla extract

1

tsp

whiskey

(optional)

2

tbsp

toasted coconut flakes
Instructions
Add the almonds to a food processor and blitz them until finely ground. Pour in the date syrup as the blades are rotating. Keep processing until almonds and syrup get well mixed together.

Line the bottom of 2 small springform pans (mine are 10 cm in diameter) with parchment paper and divide almond mixture between the two pans. Spread evenly on the bottom of both. Keep in the freezer until the filling is ready.

Melt the coconut oil and let it cool until lukewarm. Clean the food processor with a spatula; you don't need to thoroughly wash it to make the filling, as traces of ground almonds in the filling are no problem.

Remove pit and skin from the avocados and add them to the food processor. The weight of the avocados should be about 170 g. Add the cocoa powder (preferably sieved, as cocoa powder tends to clump), the date syrup, vanilla and whiskey (you can choose to skip the whiskey, see notes below).




Start the food processor, and as it's processing, pour in the lukewarm coconut oil.

Take the springform pans out of the freezer and divide cake filling into both. Level the top with a spatula and spread coconut flakes as decoration. Chill in the fridge for one hour.
Notes
To enhance the flavour of this cake, I would recommend using flavoured coconut oil.
The use of the whiskey is not mandatory, yet I find that it really helps balance all the flavours and offset the "green" avocado notes, enhancing the flavour of the cocoa which is what you ultimately want in this cake. For my cake I used Jameson. I would not recommend the use of peated whisky.
Store in the fridge in an airtight container for up to 4 days.
Nutrition Facts
Raw chocolate cake with avocado and date syrup
Amount Per Serving
Calories 578
Calories from Fat 405
% Daily Value*
Fat 45g69%
Sodium 11mg0%
Potassium 1029mg29%
Carbohydrates 48g16%
Protein 8g16%
Vitamin A 204IU4%
Vitamin C 10mg12%
Calcium 89mg9%
Iron 3mg17%
* Percent Daily Values are based on a 2000 calorie diet.
(Visited 2,722 times, 1 visits today)