This open-faced beef patty sandwich is inspired by Danish open sandwich smørrebrød. Buttered bread topped with a delicious ground beef patty made from scratch, raw onion and an egg yolk. Break the yolk and it will ooze over the meat like a delicious sauce. Who would have thought that an open-faced hamburger sandwich could get so classy?

Fancy a burger night but wanna pass up the grease and frying? Here comes an alternative that I like to call a classier take on homemade burgers. This is a hamburger sandwich, in fact. Open-faced, served on buttered bread, with no sauce but trickling raw egg yolk. This stuff is mouth-watering. And honestly so elegant.
And if you're thinking ground beef sandwich, we're not talking fancy sloppy joes. The ground beef is worked into patties and cooked in a pan before landing on the bread, warm. You give it a couple of minutes to cool just slightly, then add an egg yolk on top. Which is meant to be pierced so that it can ooze all over the patty like a sauce. Does it remind you of khachapuri adjaruli, because it should.
The inspiration behind this beef sandwich
This recipe was developed a few years back, shortly after I opened this blog. On my way back to Sweden from Italy I browsed the Finnair inflight magazine and stumbled upon a beef patty sandwich with a raw egg yolk on top. The article was about a restaurant in Denmark and their various options of smørrebrød.
Smørrebrød is a Scandinavian open-faced sandwich where various ingredients such as cold cuts and cheese slices top breaded butter. A traditional Danish open-faced sandwich would feature dark rye bread and the toppings would most likely be cold. But inspired by the pictures in the magazine I decided to have a warm ingredient top my sandwich. And I'd have white bread.
So this is how my beef patty open sandwich was first made. I'm happy to feature it again, with new photos, as a celebration of my growth as a food blogger. Who got her inspiration from an inflight magazine. Bringing you kitchen stories from abroad from the very start!
More open-faced sandwiches? Try Polish zapiekanka!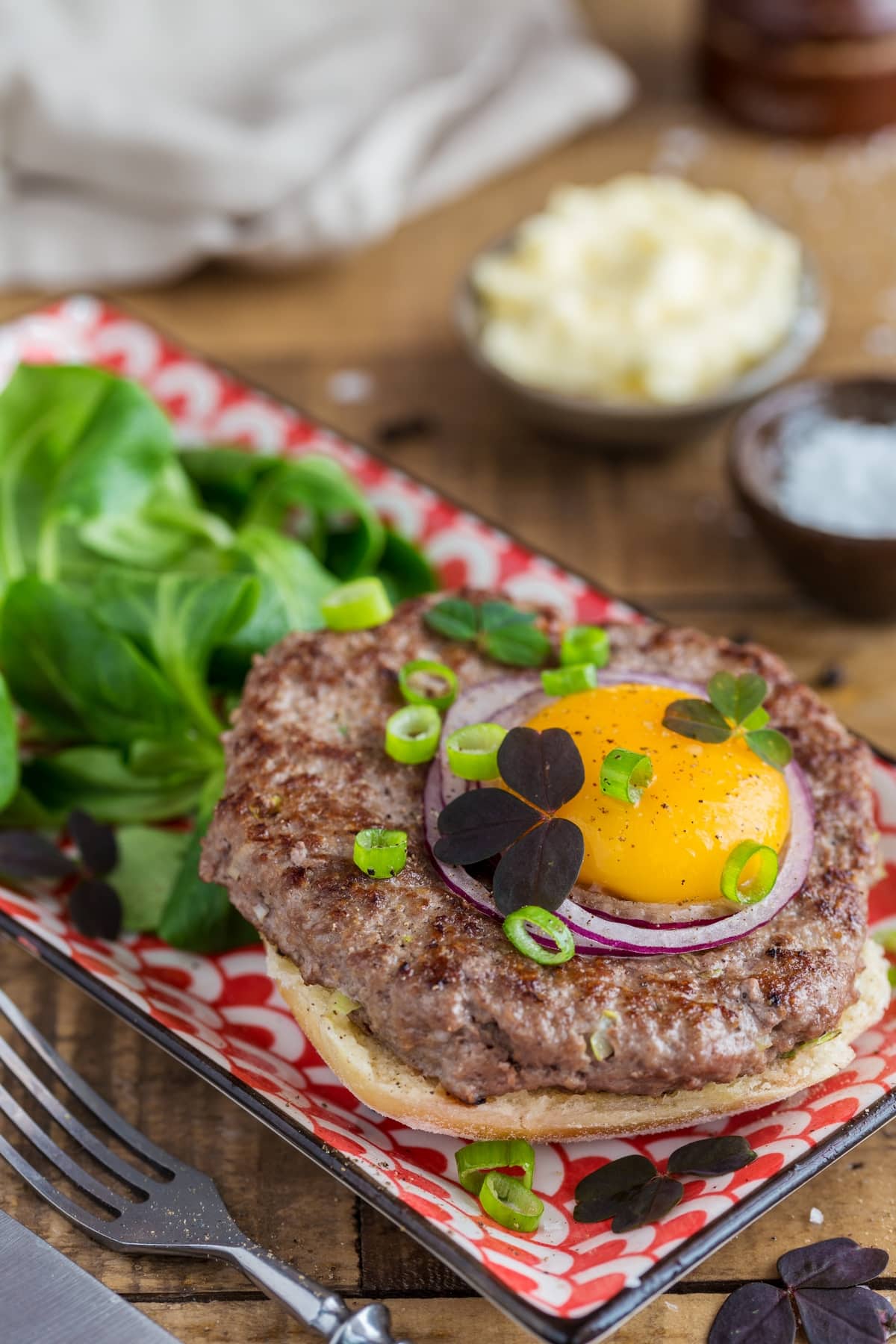 How to make the beef patty open sandwich
These are the ingredients you will need to make this delicious and pretty hamburger open sandwich for your next party:
Bread rolls of choice
Ground beef
Salted butter
Spring onions
Red onion
Eggs
Breadcrumbs
Salt & black pepper.
Mince the white root-end part of the spring onions and add them to the ground beef together with the breadcrumbs, salt and pepper.
Crack the eggs open and separate the egg whites from the yolks. Save the yolks for later, and add the whites from 2 eggs to the meat mixture. With the leftover whites you can make these delicious hazelnut soft cookies.
Combine the mixture by working it with your hands and divide it into 4 balls, Gently flatten them against parchment paper to form 4 patties slightly larger than the size of the bread rolls (they will slightly shrink as they cook).
Set a non-stick pan on medium-high heat and cook the patties for 2-3 minutes per side. They will release some grease, there is no need to add any more cooking fat if using a non-stick skillet.
As the meat cooks, halve the bread rolls and spread a nice layer of butter all over the surface. I prefer the use of salted butter, so add a pinch of salt if using unsalted.
Place the cooked meat on the bread and let it rest for a couple of minutes. It will melt the butter into the bread and cool just lightly in order to allow for the addition of the raw egg.
Slice a red onion and add a couple of rings over every meat patty. Place an egg yolk in the centre. Top with sliced leafy ends of spring onions and a sprinkle of freshly cracked black pepper. Feel free to add any decorations you please, and an extra sprinkle of salt on top as well.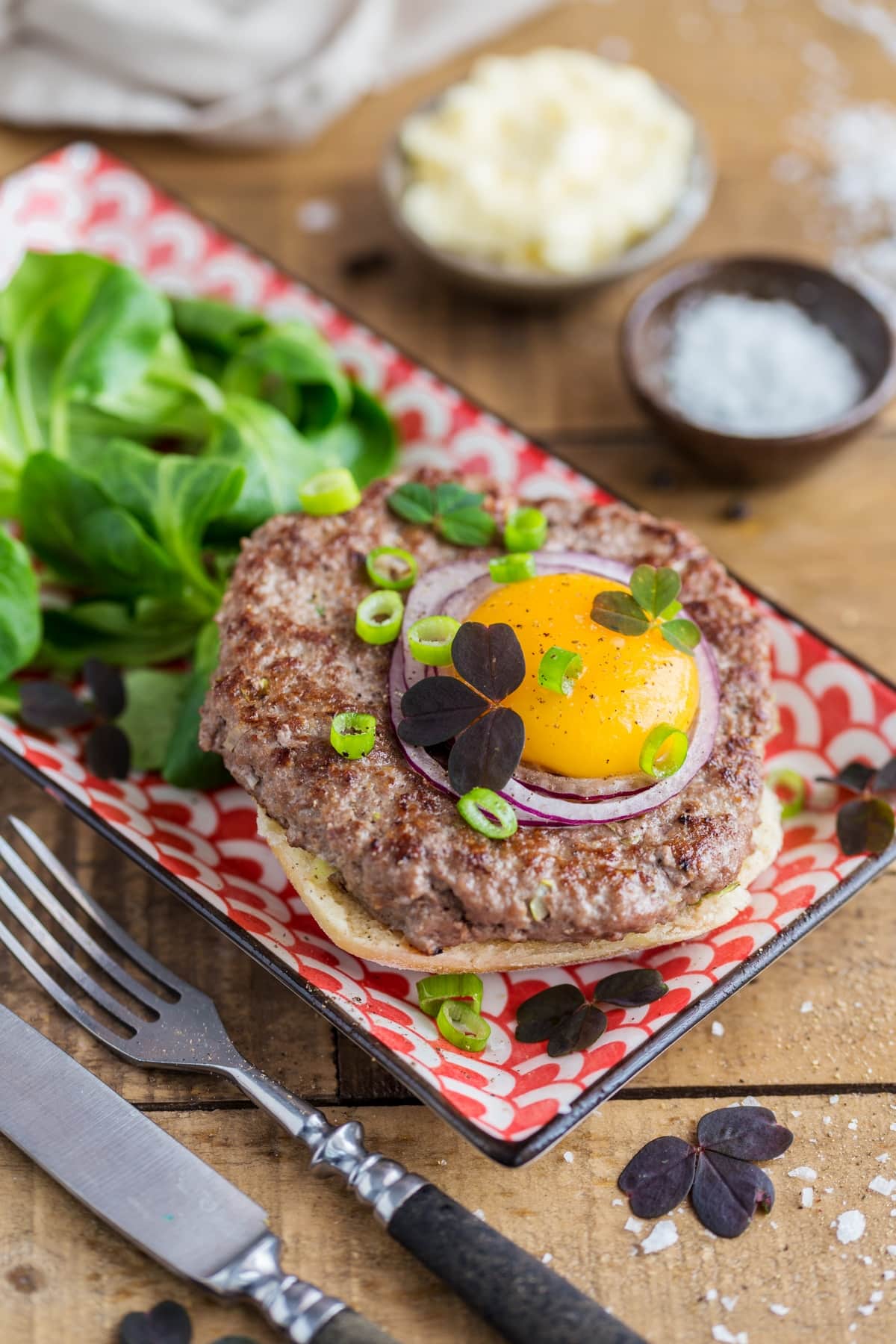 Make it a meal
Invite your friends over or treat your family to an exquisite dinner inspired by Scandinavia featuring open sandwiches! Whether you wanna call them smørrebrød or smörgås the choice is yours.
Start off with some skagenröra, Swedish shrimp salad. I like to use it to top small dark bread toasts and make a tapas version of toast Skagen. Pairs nicely with a glass of prosecco or a cider-based Bellini with mango.
After the appetizer it's time for the main meal and these open-faced beef patty sandwiches will be the star of the show. As a side dish I'd suggest some oven-baked sweet potato fries dipped in delicious saffron garlic mayo. Danish beer would definitely be my drink of choice with this dish.
For dessert keep the Scandinavian theme with the Swedish chocolate oat balls with freeze-dried raspberries. They are a smaller treat that pairs really well with coffee. Fancy a cardamom cold brew coffee maybe?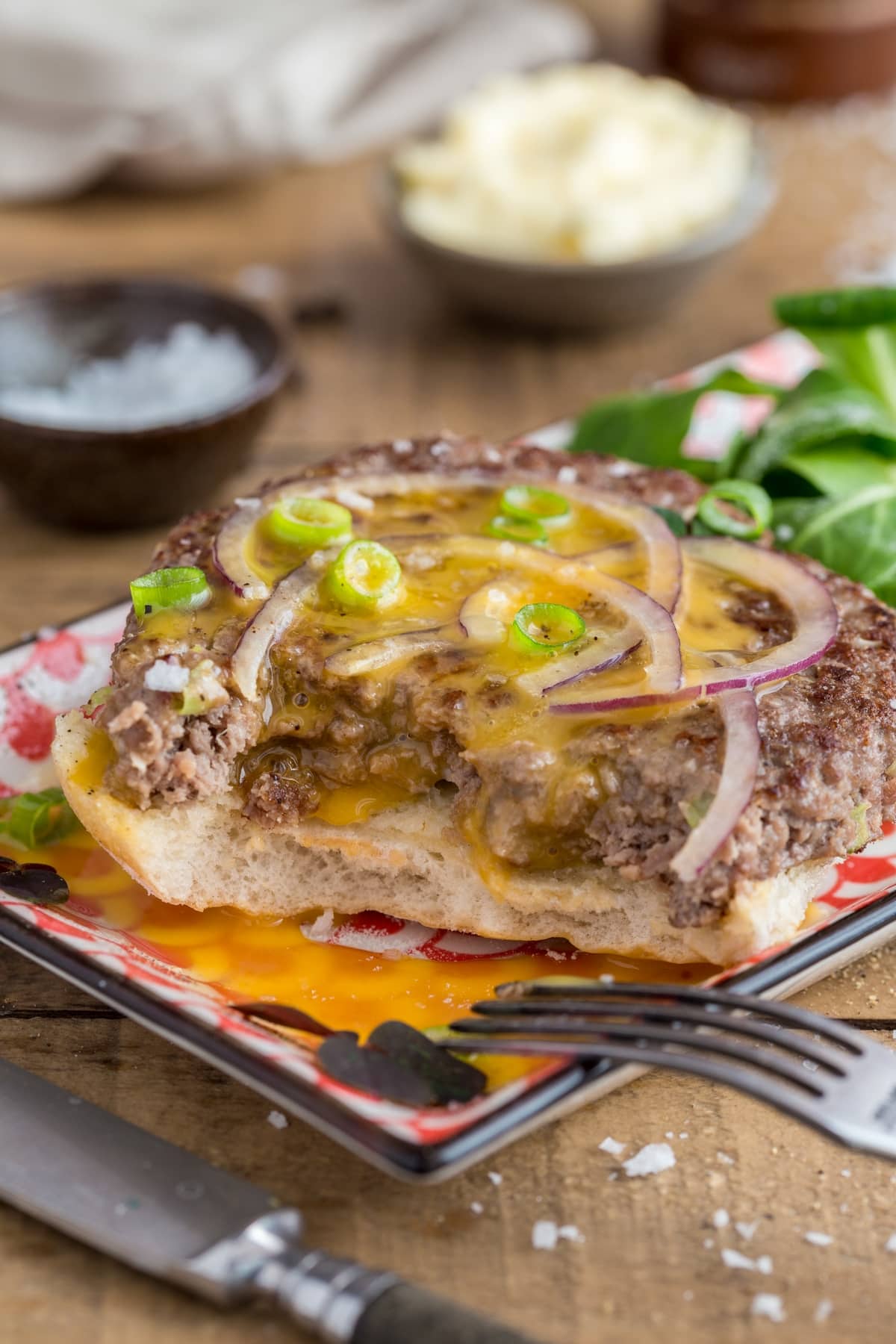 I hope you get a chance to try these elegant hamburger sandwiches soon. They're a great meal option any time of the year. Enjoy them in the summer, cooking the patties on the grill. Or in the winter, since they're easy to prepare in the kitchen.
If you make this recipe let me know in the comments what you thought about it. Hope it made you travel vicariously to a little restaurant in Copenhagen somehow. And don't forget to pin this recipe for later!
Originally published September 2015, last updated February 2021.
Open-faced beef patty sandwich
Homemade hamburger sandwich inspired by Danish open sandwich smørrebrød. The beef patty is served over buttered bread and topped with a raw egg yolk.
Ingredients
2

bread rolls

500

g

ground beef

4

eggs

2

spring onions

4

tbsp

breadcrumbs

2

tbsp

butter

1/8

red onion

salt and pepper

to taste
Instructions
Add the ground beef to a mixing bowl. Mince the white root ends of the spring onions and add to the ground beef.

Separate the yolks from the egg whites. Add the whites from 2 eggs to the meat mixture. Discard the rest of the whites and set the yolks aside.

Add the breadcrumbs, a pinch of salt and freshly ground black pepper to meat mixture. Mix with your hands until homogeneous. Divide the mixture into 4 and form 4 patties by pressing the mixture onto parchment paper.

Set a non-stick frying pan on medium-high heat and cook the beef patties 2-3 minutes per side. They will release some grease, so there is no need for extra cooking fat if using a non-stick pan.

As the meat is cooking, halve the bread rolls and spread butter over open faces.

Lay cooked meat patties over butter layer. Rest for a couple of minutes so that the heat of the meat will melt the butter.

Peel and slice the onion into rings. Place a couple of rings over every beef patty. Top each sandwich with a raw egg yolk right in the centre of the onion rings.

Sprinkle some more salt and pepper and top with sliced spring onions (the leafy ends).
Recipe Notes
The nutrition information listed in this recipe is just an estimate based on a suggested serving portion.
Nutrition Facts
Open-faced beef patty sandwich
Amount Per Serving
Calories 511
Calories from Fat 324
% Daily Value*
Fat 36g55%
Cholesterol 267mg89%
Sodium 343mg15%
Potassium 467mg13%
Carbohydrates 15g5%
Protein 30g60%
Vitamin A 473IU9%
Vitamin C 1mg1%
Calcium 92mg9%
Iron 4mg22%
* Percent Daily Values are based on a 2000 calorie diet.
(Visited 1,333 times, 1 visits today)