Just like many European countries in winter, Sweden hosts some pretty fabulous Christmas markets. The Stockholm Christmas market is often listed among the best Christmas markets in Europe. There are many other Christmas markets in Sweden that are less famous than the one in Stockholm, and one of them is the Christmas market at the mine in Falun. The Falun Christmas market takes place at the beginning of December. It is called Gammaldags Julmarknad, which translates as old-fashioned Christmas market. It really has the feel of an event stuck somewhere in time, a feature that makes it even more magical to me.
The market is located within the Falun Copper Mine premises, the heart of the industry that made Falun important and prosperous a few centuries ago. The mine is now a museum and a UNESCO World Heritage Site, so this is a Christmas market in a UNESCO site! This setting is probably the strongest feature giving the Falun Christmas market its old-fashioned feel. Like at most Christmas markets in Dalarna, the goods on sale at the Falun Christmas market are a whole array of traditional crafts and foods produced in the region. It is always very hard for me not to spend too much money, especially on the food, because this is an unmissable chance to get access to some exquisite delicacies.
What to buy at the Swedish Christmas Market in Falun
Among the goods on sale at the Falun Christmas market there are mostly foods and Christmas crafts, but also clothes and general decorations. Something I buy every year to eat at Christmas is smoked rainbow trout. It is fished from a river in this region and smoked here in the area. Another item I always reserve to my Christmas lunch is reindeer meat. Having reindeer meat at Christmas has become a tradition ever since I took my boyfriend to Stockholm for the first time. We had visited in December and bought reindeer and moose meat at the Christmas market in the capital.  These are my regular choices, but there is much more than smoked fish and meat on offer.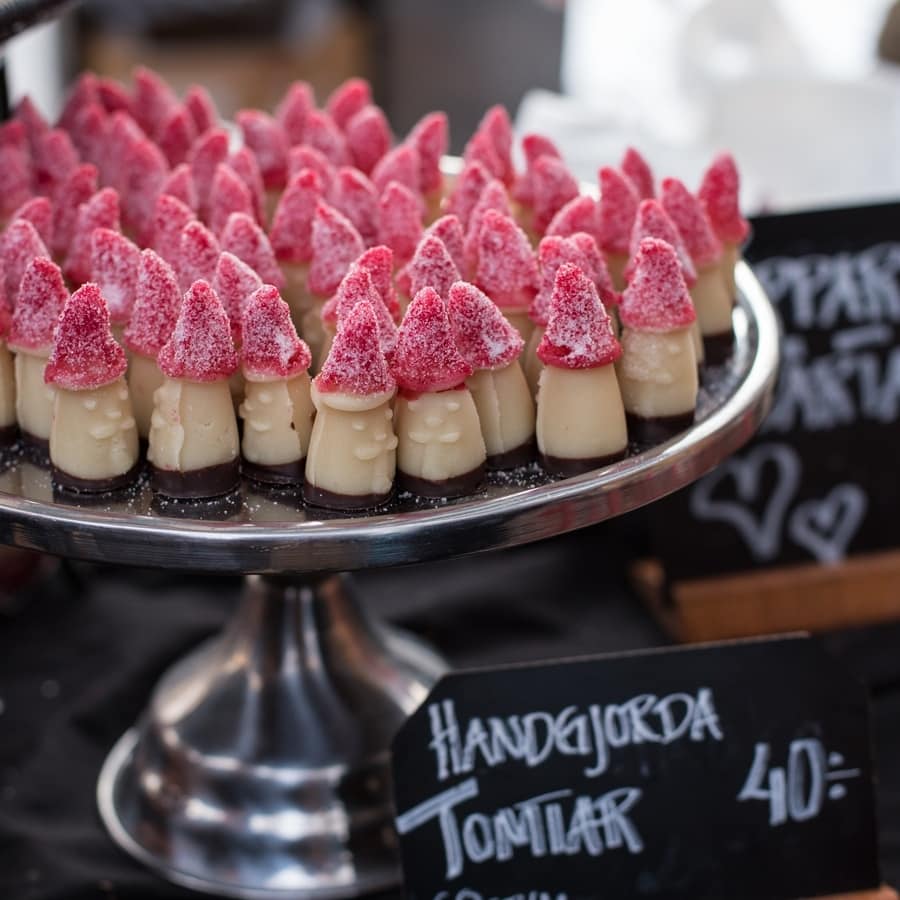 One thing that had intrigued me on that first Swedish Christmas market had been the straw goat. I didn't buy one, but had been very tempted to. Now I don't find it so strange anymore and I got used to the fact that goats and pigs are Christmas animals in here.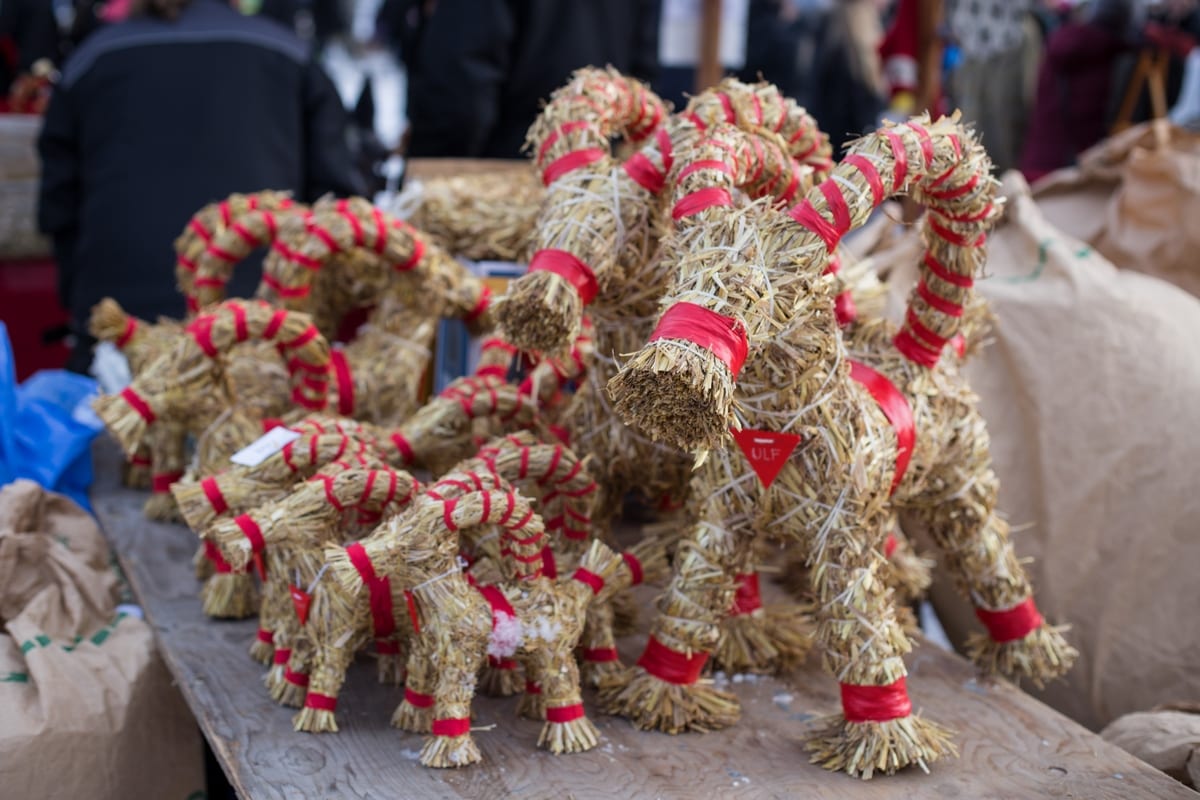 What to eat at a Swedish Christmas Market
Since the market only happens once a year, we decided to treat ourselves to some food on the premises and had a portion of kolbulle and some glögg. Kolbulle is a pancake with diced salted pork meat. Its name means "coal bun" and it was the typical food of loggers, hunters and charcoal makers, who would spend days away from home and had limited options when it comes to feeding themselves. Not your average healthy meal, but a hearty soul warmer to enjoy on a day out in the snow. Glögg is a traditional Christmas time beverage, a sort of mulled wine. It can be found both with alcohol or alcohol free.
We decided to visit the market in the morning and left around 12:30. The sun had fully risen by then and the sky had cleared up unveiling its light. The soil around the mine is rich in sulphur and on cold days one can see the warmer gas emissions in the cold air. I think I had never seen that place looking more magical.
We woke up this weekend to fresh snow and I am keeping my fingers crossed for it to stay. The promise of a good winter showed up early with the first heavy snowfall on November 1st. Unfortunately it wasn't meant to last and was soon washed away by warmer temperatures and rain. I will not be spending Christmas in Sweden this year but I am hoping for a white one here nonetheless. So I keep my fingers crossed.
(Visited 363 times, 1 visits today)