Who doesn't love a good burger? Beef, chicken or vegetarian, I will never say no to one. As much as I enjoy burgers as street food, I also love making my own patties at home. Minced beef is my first ingredient of choice, but I like to alternate my diet and reduce my meat intake, so vegetarian options are becoming more and more popular in my house. I must admit that I am not crazy about "meat replacement" foods like soy burgers, and if I'm to eat vegetarian I'd rather go with something totally different from meat, also in terms of texture. Chickpeas, for example, to yield falafel burgers!
The inspiration for this recipe came from the Minimalist Baker. Since I was looking for a smaller yield I have slightly adapted it to suit my needs. I had been after a good falafel recipe and the idea of larger falafel burgers was somehow more appealing to me so this is how the world wide web brought me to the Minimalist Baker (an awesome blog, by the way!). I served these burgers in brioche buns with chunky guacamole, grilled halloumi and my dear red onion relish.
Falafel burgers (serves 2):
240 g chickpeas
2 tbsp finely chopped parsley
1 garlic clove
3 tbsp lemon juice
1/3 tsp salt
3/4 tsp cumin
30 g flour
pepper to taste
oil for frying
Combine chickpeas, parsley, garlic (cut in smaller pieces), lemon juice, cumin, salt and pepper. I will not be ashamed to admit that I have used frozen parsley, it's the truth. Mix it all with a hand blender, being careful to grind the garlic pieces in the process. Once blended, add the flour and combine mixture using your hands. Divide mixture into two patties about 1,5 cm thick. Freeze patties for 15 minutes, as hardened they will be easier to handle. In the meantime start preheating the oven to 200°C and prepare a frying pan with oil. Shallow fry the burgers for 3-4 minutes per side before transfering them onto an oven tray lined with baking paper. Bake the fried burgers at 200°C for 30 minutes.
I have spread fresh guacamole on the buns, probably my favourite sauce ever invented (linked is my recipe for smooth guacamole. In these burgers I made it chunky, so I skipped the blending and just mixed and mashed it all with a fork). While the falafel burgers were baking I pan-grilled the halloumi and took care of making caramelized onion relish in another pan. Once combined, all these flavours were divine.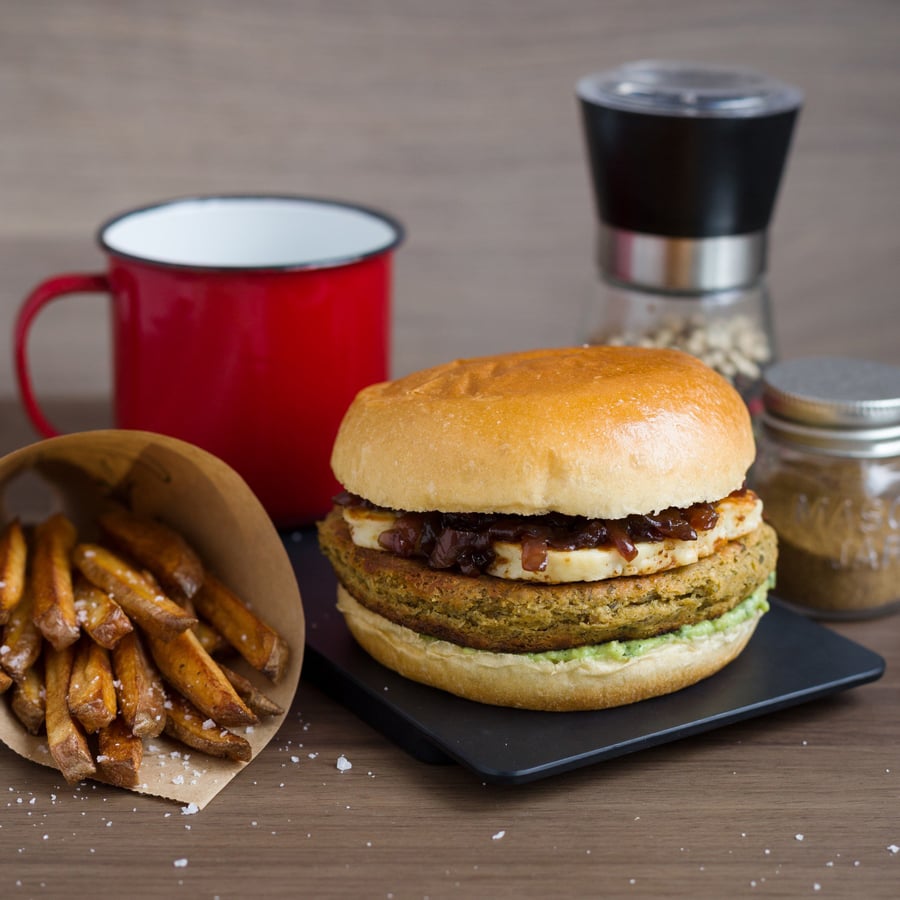 The side dish of french fries is probably the unhealthy part of this meal (but how can you not have a side of fries to your burger?). Alright, the falafel burger had been ligthly fried in oil itself, before ending up in the oven. But still, I believe that this burger qualifies among healthy foods. Surely, it's very enjoyable. Especially when you are an avid fan of falafel, halloumi and guacamole like I am. Then this meal is paradise.
Pin for later reference:
(Visited 371 times, 1 visits today)