Lasagne (in Italian we more commonly call this dish in the plural form) is my favourite food. It comes before pizza, guacamole, Norwegian chocolate, shrimps and all other foods I love. It's my very favourite dish and I can never get tired of it. To me, it's Italian food at its best! Generally, when I think lasagne I have in mind the basic type, with bolognese – ragù – meat sauce and bechamel, but there are several variations I have also tasted and loved, such as lasagne al pesto or lasagne with cream walnut sauce. In this post I will speak about another variation, a bit more eccentric but not less awesome: pasta-less lasagne.
I was inspired to use leeks instead of pasta by my boyfriend's grandma two summers ago. She made a really nice oven-baked dish with boiled leeks, ground pancetta and bechamel, but made it in a single layer. While enjoying that wonderful meal, I imagined it made up of several layers of the same awesomeness, just like lasagne. Made my mouth water even more. At some point last autumn I made it exactly like that, and it has quickly become one of my favourite dishes. I prepared it again recently, when we had friends over for dinner. Inspired? Here's the recipe.
Leek lasagna (serves 4):
3 leeks
400 g ground meat (I used beef)
herbs or spices to flavour the meat
2 tbsp flour
2 tbsp butter
660 ml cold milk
nutmeg
salt
parmigiano
To be able to substitute lasagne pasta sheets with leeks, first of all I cut the leeks in 10 cm long cylinders. I put them in a pot with lightly salted water and bring that to a boil. Then I leave them to boil until they have become really soft. Leeks are chewy, so the more they're allowed to soften, the better. When I see that they have softened enough (about 20 minutes since the water has started to boil), I take them out and leave them in a colander so that all the water goes away. Once drained and cooled, I cut them on the side, so that I can literally roll them out: from each piece I usually get two alternative pasta sheets.
In the meantime, I prepare the ground beef. To put it very simply, it's taco meat. Unlike my boyfriend's grandma who used ground pancetta, I went for a cheaper option: ground meat. I just cook it in its own grease in a frying pan, and I add some salt, chipotle and dried herbs to flavour it. I like it a bit spicy. Nothing very fancy, anyway. When the meat is ready, in another pot I prepare the bechamel. I put the 2 tbsp of flour in a pot and set it on medium heat for a couple of minutes, to toast it a bit. When the flour is hot and toasted I add the butter and stir it well, in order to collect with the melting butter all the flour in the pot and make some large lumps of it. When all the flour is incorporated with the butter, always keeping the pot on medium heat, I pour in the 660 ml of milk. By stirring continuously with a hand whisk, the milk will dissolve the lumps as it warms up. Keep stirring to prevent new lumps from forming. Add about 1/2 tsp of salt and a sprinkle of nutmeg. When sauce thickens, keep stirring until it comes to a boil, then remove from heat.
Preheat the oven to 200°C. Spread some bechamel over the bottom of a casserole pan and cover with rolled out leeks just as if you were spreading pasta sheets for lasagne. Pour some bechamel over the leeks and spread evenly. Add one third of the meat, trying to cover all the layer. Sprinkle with grated parmigiano. Now make a new layer of leeks and repeat the same procedure. With three leeks, you should be able to make three layers with meat, plus one top layer. Finally, spread a thinner coating of bechamel on top leek layer to even it out and prevent the leeks from burning, and sprinkle this last layer with a more generous amount of parmigiano.
Top tip! Lay the leeks all in the same direction, so it will be easier to cut the lasagna once it's ready.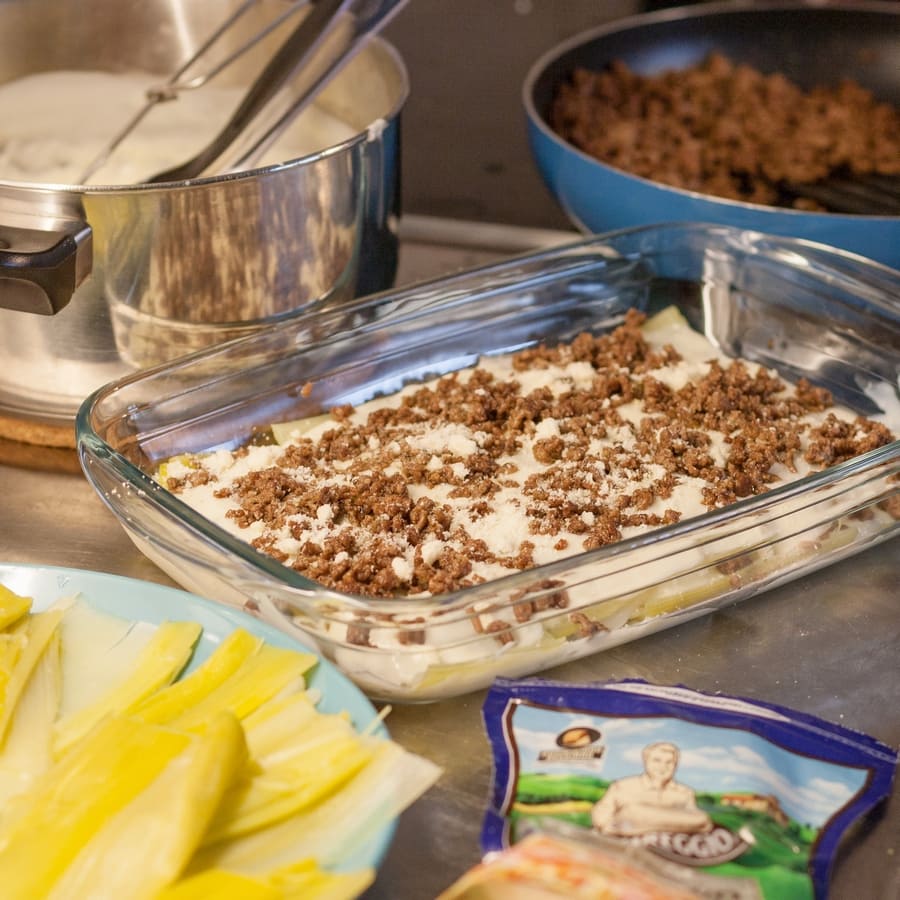 Cover the casserole with aluminium foil and bake in the oven for about 25 minutes. This way, even if the leeks had not been boiled long enough, they will slowly keep cooking. After 25 minutes, remove aluminium cover and leave 20 more minutes in the oven: the top layer of bechamel and parmigiano should turn golden brown and crusty.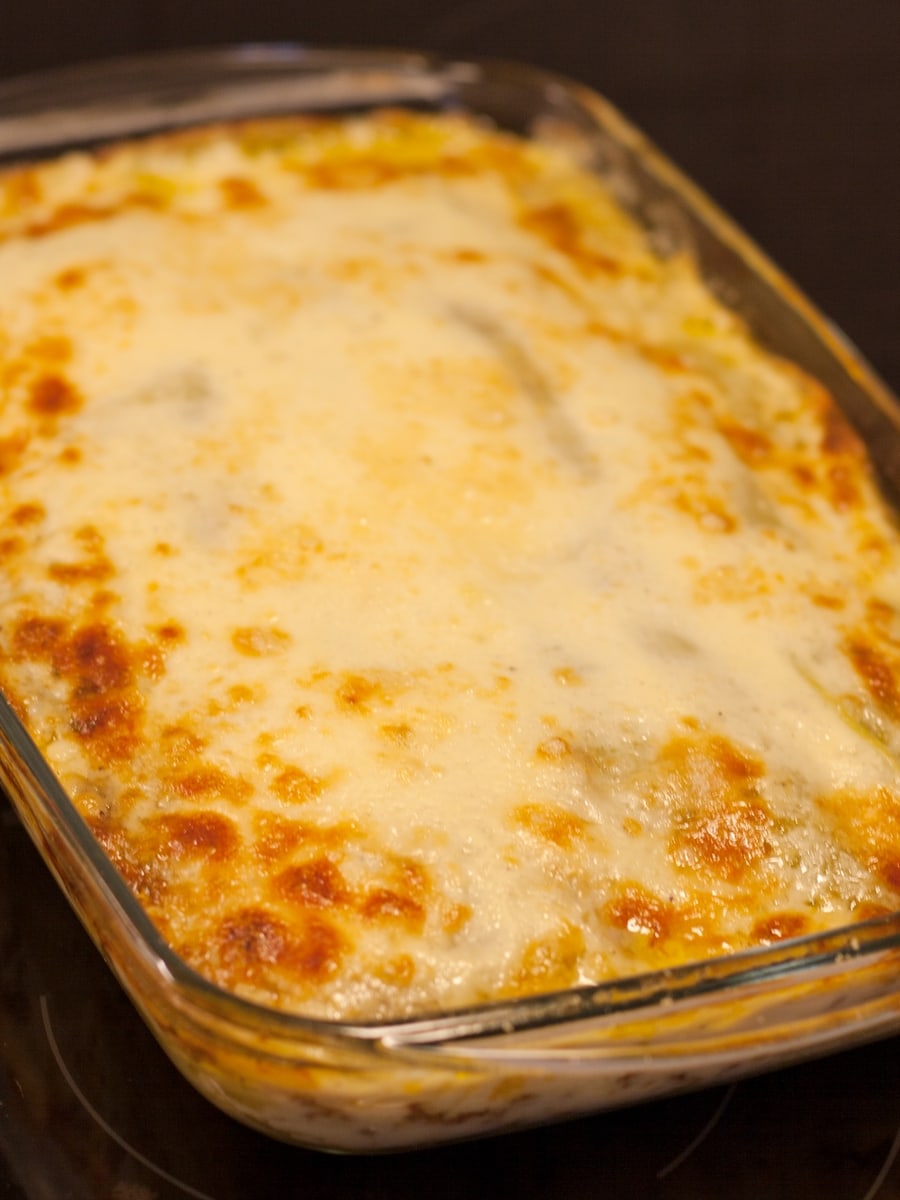 This dish looks like regular lasagna and is really quite as awesome. Unfortunately I did not take any pictures of it after I sliced it because we were very eager to start our dinner and I cut it shortly after I took it out of the oven, when the sauce was still a bit runny. For easier portioning, I recommend to leave it to rest for about 15-20 minutes to allow the dish to set.